Life will bring you many ups and downs over the years. For our friends of Nashville, "I'm Sorry for You, My Friend" put them through plenty of both throughout this winter premiere.
With a number of characters out on a big tour, or in Atlanta attempting to make it big in Avery's case, very little took place in Nashville this time around. Did the change of scenery make for a more interesting episode? Or is NashVegas the reason we continue to come back for more?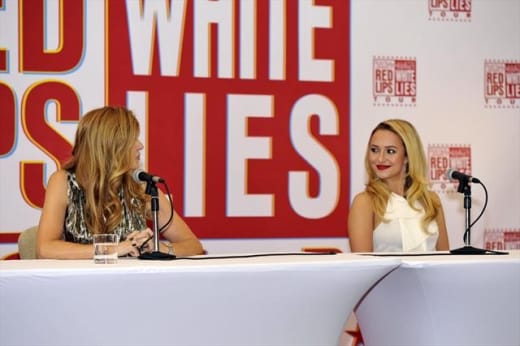 As we ponder, let me introduce you to the band...
Juliette Barnes
Always with an answer, Juliette spent the first half hour attempting to make herself look okay to the public for leaving Sean at the altar. We could see it getting to her, though, as was evident in her continued disregard for others in rehearsing for too long in San Diego.
When she met up with Sean in Oakland, and he gave it to her real good about being so awful to him and his family, I couldn't disagree. She was terrible. She knew marrying him wasn't what she really wanted, but she went along with it anyway. It was awful to Sean and it was awful to his sister. I could care less about his mother. She was a jerk.
But it is still so difficult to root against Juliette Barnes. I know she's mean... and she doesn't care for others' feelings... and she wears too much lipstick - but darn it she is charismatic enough to keep me cheering her on! When she gave in, and provided Sean with the annulment he wanted, it made all of that support for her seem justified.
Liam McGuinnis
He's no Deacon, but Liam was similarly fantastic while on tour in San Diego with Rayna this week. When he jumped up on stage to tell Juliette that her time was up, I had to tip my hat. When he lied down on the stage until she left, I was ready for a standing ovation.
Rayna Jaymes
Everyone thought that Britton played a rock in Tami Taylor of Friday Night Lights.  But Mrs. Coach didn't have nearly the turmoil that Rayna is going through right now. She's on tour with a spoiled pop star that she can't stand and her marriage has fallen apart just as her husband becomes Mayor of Nashville.
She's in bad shape, but Rayna sucks it up. She heads home to support her hubby, but my God was it difficult to watch. That commentary by Coleman about his wife felt like a knife into the collective chests of Teddy and Rayna as they watched the television.
Teddy Conrad
So he is now Mayor of Nashville! He won! But was it a fair victory? Not according to Wyatts. But if Lamar didn't buy the final votes, how did Teddy do it? Did he do the purchasing? Or was Lamar referring to something else when he said Teddy pulled it off all on his own?
A small part of me holds onto hope that the end of this campaign will beget some interesting stories for Teddy and Lamar. The political plots are really the only thing about Nashville that has continued to fall a bit flat. Is an affair between Teddy and Peggy something that might spice it up? Probably not enough.
Gunnar Scott
While the stories between the younger Nashville crew have been interesting throughout the early run, the character of Gunnar has continued to be difficult to connect with. I thought a trip to Austin to meet up with his jailbird brother might just be the trick, but I still couldn't have cared less about his outcome. Maybe it was because he sounded so ridiculous on that Merle Haggard song. Why did that sound so different than other performances on the show? Either he did a horrendous job lip syncing, or the track was just way overproduced.
Scarlett O'Connor
Where one goes, the other must follow. Like a little puppy dog, Scarlett went along with Gunnar to Austin, and met up with Uncle Deacon. There for a night of excitement backstage at the big show, that's exactly what Scarlett was treated to when the leader of the Revel Kings came onto her. Clearly having taken a self-defense class or two, she swiftly took care of the situations before Deacon had to break it up. Let's get her back to Nashville where she can safely jump back and forth between guys her own age!
Deacon Claybourne
Well, that's it for him! After throwing Cy into a table, Deacon's fate was sealed, but he certainly went out in style. It had to feel good to knock out the man who was hitting on your niece. But what now? Will he meet up with Rayna to join her tour? Will he instead do something on his own to be more of an individual? Deacon said that Cy couldn't handle the talent, and that's why he was a jerk no matter if he was a drunk or not...
Avery Barkley
...that could be exactly the path that Avery is on. In Atlanta to make it big with Dominic, Avery isn't exactly treating others tremendously. He gives it to his manager when Dominic mentioned she might be out for her own good. She certainly may be, but he didn't give her much of a chance to explain herself before treating her like a piece of garbage. It will be interesting to see how Avery progresses as a human being if he continues to succeed in the biz.
Before you let us know what your favorite moments from "I'm Sorry For You, My Friend" were, check out our Nashville music section and realize that what they want you to think was an arena in San Diego was actually the Bridgestone Arena in downtown Nashville.
Dan Forcella is a TV Fanatic Staff Writer. Follow him on Twitter.