"Hits and Myths" started off with Juliette Pittman in control of the Hawks - and if you thought the responsibility would make Marshall's daughter grow up, you were sadly mistaken.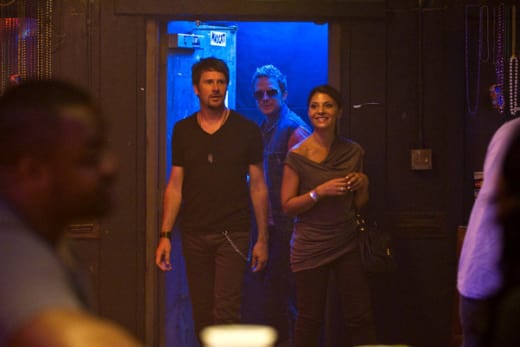 Juliette had new uniforms designed and propositioned TK. If Juliette wanted him to be the bad boy of the team, he was going to have to have that Serenity prayer tattooed on his forehead to hold her off. 
Wasn't it funny how Toes was cast as the gentleman and TK the troublemaker? TK was right about Matt's reality being stuck in the past because in the present Toes was calling TK's mother a crack whore and TK was keeping bad girl Juliette at arms' length.  
I was rooting for TK and Juliette to team up, but Juliette has a long way to go to catch up to TK's maturity. It's great to see him taking his sobriety seriously. I'd say Juliette could learn something from him, but she's nowhere near ready.
TK's in a tough spot. Between Toes trying to take him down at every turn and Matt expecting him to fail, it will be difficult to change the team's perception of him.
Speaking of Matt, I've always been Team Nico but I'm liking Matt a lot less this season. He was great when he and Dani were together but now that they're apart and he's in a position of power within the Hawks, things are changing.
Matt had no problem jumping into bed with that reporter, so why is it his business if Dani is having a relationship with Nico? The sad truth is, she isn't, but one can dream.
And Dani was doing just that... dreaming. I did wish her sex dreams could have had more, you know, sex. The movie theme worked at first. The handprint from Titanic made me laugh but by the time they got to Gone With the Wind I was over the gag. 
I understood why Dani believed her life mirrored a tragic love story. Her husband cheated on her for years and left her in thousands of dollars in debt. She and Matt looked good on paper but crashed and burned when their futures didn't mesh - but why is she so insistent that she shouldn't be with Nico?
I wished she would have explored her reasons for dismissing Nico with her therapist because I wanted to hear them. Nico's not perfect but I believe he's a good guy at heart. Dani has to decide if he's worth taking a chance on.
As usual, Dani's other clients were my least favorite story. Why would Dani and Paul stand on the ground and yell for a suicidal man on a rooftop to just come down. That seemed an unwise choice of words. And then Paul jumped! It was at least two stories onto concrete. Was it even possible for him to not be severely injured?
Do you want Juliette Pittman in or out of the Hawks? Does Matt have a right to be jealous of Dani with anyone, even Nico? Weigh in with your thoughts about this week's Necessary Roughness.
C. Orlando is a TV Fanatic Staff Writer. Follow her on Twitter.