New Girl Exclusive: Jake Johnson on Being Like Charlie Brown, The Spiral of Nick
Jim Halterman at . Comments
Yes, it's titled New Girl. But if you're like me, you watch this sitcom just as much for Jess as for Schmidt, Winston and, of course, Nick, played by Jake Johnson.
To which beloved comic character does the actor compare Nick? How will things go when Sports Illustrated model Brooklyn Decker appears on next week's episode? And will Nick and Jess ever be more than roommates?
Johnson gave TV Fanatic some surprising answers when he sat down for a chat at the Fox All-Star Party last week...
----------------------------------------
TV Fanatic: Nick's romantic life is so much fun because you almost assume he is going to screw something up.
Jake Johnson: I kind of feel like Nick, in terms of romance, is a bit of an adult Charlie Brown and what I mean by that... season one I didn't understand who Nick was at all and then in [New Girl Season 2] I really felt like the writers have honed in. I really thought about it when I was doing the Christmas episode with Olivia [Munn, who played Angie, Nick's stripper girlfriend for three episodes].
This man is with a woman who's as attractive as Angie and saying 'I want to have sex with you tonight' and as I was at the table read I thought 'How is this idiot going to screw it up?' because I knew he will - and then as he screws it upm I thought like 'who is this guy?' It made me think of Charlie Brown whenever there's something good. His friends tease him and then he runs up to it and screws up and I'm like 'That's what Nick is like with romance. He is going to this point of his life, find a way, who knows how... but find a way to ruin something that's as easy as kicking a football and that's his relationship with Olivia Munn.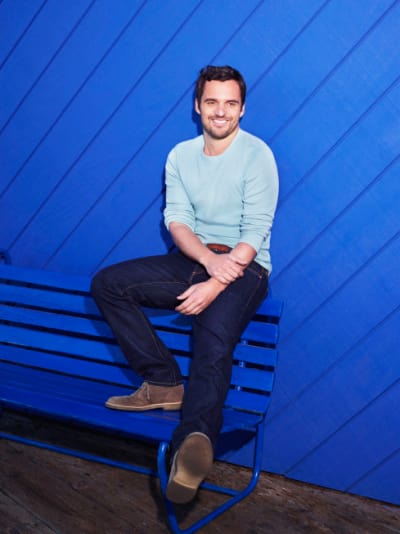 TVF: How was having Brooklyn Decker on the show?
JJ: She was surprisingly hilarious and, not as surprisingly, a very talented actress and a blast to work with. She came in and killed it. She plays... a girl who happens to be in Nick's car window. She comes back to the loft and plays 'True American,' which is 'Strip True American' or 'Sexy True American.'
TVF: You're in the second season and people know the show, people love the show and are very passionate about it. Does that change you or how does it affect your life?
JJ: It's an adjustment to be honest. I've been very lucky. I haven't encountered anybody who's been unpleasant... I've been always a 'grinder actor' and what I mean by 'grinder' is day jobs and commercials and a gig here and then nothing for years and then New Girl kind of changed it.
TVF: What's coming up for Nick later this season and will we ever see something with Jess?
JJ: There's a really nice episode where Nick is single and then gets sick of being the same old Nick. And you get to see a different side of him with Jess.
TVF:  Does Nick try to make things happen with her?
JJ: I can't say that. But you do see a different side of Nick and you start to see who Nick might be and I think with Jess you start to see who Jess might become. I think like most human beings you screw up and then you get to a part where you start saying 'I'm sick of making the same mistakes.' Nick hasn't got there yet.
I think Nick is still spiraling. Whatever made him drop out of law school and when Caroline dumped him... I think he's got to start making those corrections and those are the corrections that make him an adult, but he hasn't made them yet.
TVF: You're getting associated with this role and show, but how do you make sure you're not Nick Miller in Hollywood and with other roles either on TV or movies?
JJ: That's interesting. My thought on it is I never had a love interest or a girlfriend in any project that I've ever done from theater to movies until I met Liz Meriwether. So I don't have a fear of being typecast as Nick Miller because it doesn't feel like my natural go-to. I love playing Nick and I love being on this TV show, but as a guy I'm not like 'that's what always comes easy to me.' I think deep down I'm more naturally a character guy.
TVF: You're from Chicago.
JJ: I am.
TVF: Indiana native here. So I know that Chicago is such a great town and has so much more creativity than people realize.
JJ: I agree a hundred percent. Quickly look who came out Chicago: Bill Murray, Chris Farley, even though he was Wisconsin, he spent his developing years there, Tina Fey is Philly, spent her development years there. The Midwest is different.
I always feel a bit of an outsider in [Los Angeles] because I didn't start working as an actor until I was 27. So I spent so many years doing day jobs and working and not making it and being successful. So it all feels more like a fun game rather than something handed to me or something that I'm entitled to and I think there's something about that outsider mentality that is very Chicago.
New Girl airs a new episode, "Pepperwood," tonight at 9/8c on Fox.
Jim Halterman is the West Coast Editor of TV Fanatic and the owner of JimHalterman.com. Follow him on Twitter.