The subject matter was a little bit scattered on "One Step Forward, Two Steps Back," but a couple scenes - both featuring Crosby - saved the episode from falling from the rankings.
Sarah and Kristina had moments that weren't particularly flattering, which is par for the course for Sarah, but has been rarer for Kristina during Parenthood season 4.
It seemed like a good idea for Sarah and Mark to meet up for lunch to talk thinks out after they ran into each other at school. There is nothing worse than an unresolved break up that leaves you wondering what you could have done differently, whether you could have saved it or if your future would could have been different. This was their moment to end things amicably.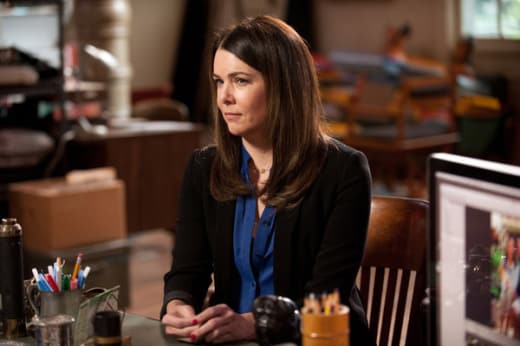 Things were going really well with Sarah and Mark at lunch; they were enjoying each other's company and it seemed like they might be able to move on without having any lingering doubts about each other. Then Sarah decided to tell Mark about the kiss. The kiss that happened with Hank when she and Mark were still together.
After reassuring Mark that there was no overlapping in her dating of he and Hank, bringing that up was just hurtful. It essentially meant that any chance Mark had to move on and feel good about what they had was destroyed. If I could have reached through the screen and throttled her, I swear I would have. Any normal person would have been angry, but somehow that just steadied Mark's resolve.
Mark later confronted Hank and told him he planned on winning Sarah back. The thing is, Hank doesn't like drama. He's practically devoid of emotion half the time, so it's not a tough call to make. In his mind, I think he already "won" Sarah and the idea of going through more song and dance to keep her doesn't appeal to him. Whether he sticks around for the fight remains to be seen.
Kristina was also on the blah list this week. Am I the only one who is distracted by the bald makeup on Kristina's head? It's too perfect, too matte. It looks almost like she's portraying a conehead. I find it completely distracting. It was also the first time that I didn't find her interference in Max's life all that compelling.
While it was nice that she wanted to help Max get the vending machines for school, the platform that won him the presidential election, the fact she did it without his engagement seemed to somehow cheat him out of the process. There was no sense of accomplishment when he saw the machines and jumped and shouted with glee with his classmates all looking on; in slow motion for effect, mind you. It just rang false.
Crosby and Jasmine were struggling with their own child rearing issues because Renee needs to hit the road. They have been extremely kind to have her in their home, making accommodations and special considerations for her living arrangements. Yes, she and Jasmine raised Jabbar alone for years, but that was their choice. Crosby didn't know he existed and that, as it turned out, was a travesty. He's a fantastic father and all of Renee's judging isn't helping at all. She needs to step back and let his parents take care of him.
Jasmine continues to whither in front of her mother but stand tall when it comes to Crosby. Living in a house with those two women would be enough to try the patience of a saint - and Crosby is no saint. Yet somehow he manages to keep it all together for Jabbar.
As if they haven't already done a superb job of showing Crosby's growth, the scene between him and Julia talking about Victor and parenting was beautiful. After Julia's tearful morning with Joel, I was really surprised at her behavior when she put Victor to bed that night, tucking him in and saying she loved him. It was during her talk with Crosby that we learned her biggest fear is that if she adopts Victor she'll be robbing him of a truly loving relationship with a mother, something he deserves to have.
Honestly, I didn't see that coming. Now I understand why she was focusing so much on Joel's relationship with Victor and comparing and contrasting what she wasn't able to form with him. She wasn't doing it from selfish angle, but on Victor's behalf. Once she realized that she surprised Victor and Joel by deciding to set a date for the adoption. 
Other things of interest:
It was nice to see Ryan again, and to know he and Amber aren't finished. I loved his reaction when her secret into Joel's heart got him his job back.
Camille and Zeek made only the briefest appearance. I had hoped Sarah moving home might mean we saw more of them, but they've been noticeably absent.
Wasn't it just last week's episode "Small Victories" that ended with a sobbing Drew knocking on Sarah's door? How could there be no mention of that at all this week? That's crazy.
Next week is the season finale. I know everything I want to see won't be on it, so what are your hopes for the season ender?
Carissa Pavlica is the managing editor and a staff writer and critic for TV Fanatic. She's a member of the Critic's Choice Association, enjoys mentoring writers, conversing with cats, and passionately discussing the nuances of television and film with anyone who will listen. Follow her on Twitter and email her here at TV Fanatic.