After far too long off the air, Arrow Season 1 resumes tonight with an arsonist on the loose in "Burned."
But many fans already have January 30 circled on their television-viewing calendar, as Seth Gabel debuts on that date as The Count, a villain based on the comic book character Vertigo.
A drug-dealer, Gabel's big bad is responsible for Thea falling victim to his controlled substance, which will lead to a showdown between Oliver and The Count.
TV Guide has your first look at the character and the confrontation here: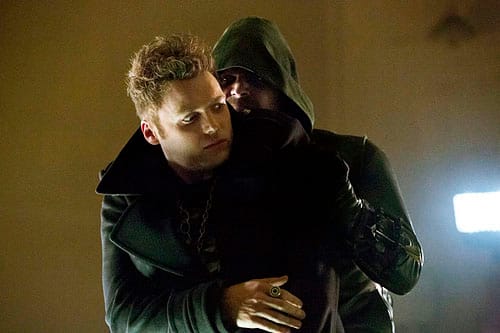 Says executive producer Marc Guggenheim to the magazine:
"This is the first time the Arrow goes after someone purely out of revenge. There's argument to be made that the Arrow's general mission is one of vengeance, but this is very specific. This time, it's personal."
Guggenheim also assures fans of the Arrow mythology that The Count will be as diabolical as the villain on which he's based.
"He sees himself as an entrepreneur, as creating not drugs, but art. He compares his drug to performing a social service and to a fine wine, so he has a very skewed view of what it is that he does. At the same time, we know that he's not only sociopathic, but he's very sadistic as well."
Matt Richenthal is the Editor in Chief of TV Fanatic. Follow him on Twitter and on Google+.