After the emotional roller coaster that was "High Noon," Suits kicked off 2013 with its aftermath in "Blind-Sided."
Despite the fact it was Mike's first day back, he attacked the job like he'd never left. The whole time, though, it was clear he was falling apart. His relationship with Rachel was in disarray once again and the case was a catalyst for the righteous bitterness he's harbored against the people responsible for the death of his parents. If only he has listened to Harvey and sat this case out.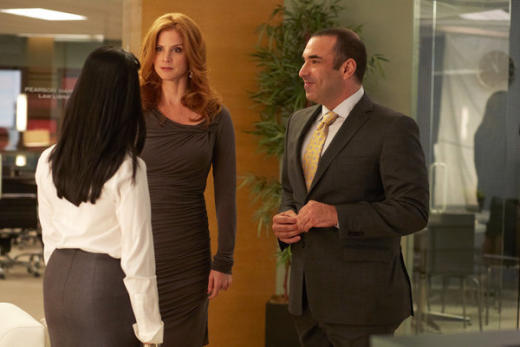 Instead, Mike caused a complicated firestorm for Harvey, who more or less was forced to follow through on a bribe in order to cover Mike's rear. Perhaps the most poignant moment of the episode came when Harvey told Mike to get his "shit together." If anything straightened him up, it was that. Though Mike's road to recovery is clearly long from over after such a devastating loss, he really needed the kick in the pants to move forward.
That said, moving forward was the last thing Louis was allowed to do this episode. While he still retains senior partner status, he's got anything but respect from his fellow associates. He went from the high of hiring his own top-notch associate - and apparently bedding Sheila - to associate-less and girlfriend-less in the course of the hour. No way this goes down without some backlash.
One unexpected but nonetheless welcomed element of this episode was Harvey's visit to Zoe's house, especially his interaction with Olivia. I actually saw a father-figure in him. If I didn't enjoy the Harvey that played the field so much, I would be readily advocating him settling down with Zoe and Olivia for good.
I wonder, though, why she seems to be making an exit just now? I was kind of getting used to the idea of having her around and now she's leaving to be a mom to Olivia. Could they not sign her onto the show for longer, or is her place in this story really over?
Highlights from this episode:
Donna's banter with Harvey at the outset of the episode. Was I the only one who loved seeing her perched in Harvey's prized chair?
Sheila's unexpect dominatrix desires.
Mike finally kicking Tess out. She was only around for a bit, but I was already tired of her character.
Mike's visit to Nick Rinaldi. It was reckless, but I feel like he needed to get it out and face his past dead-on given the circumstances.
While all seemed quiet on the northeastern front, is the war at Pearson/Hardman really over - or is it only in the midst of a temporary cease fire? Sound off now on the return of Suits Season 2!
C. Charles is a TV Fanatic Staff Writer. Follow her on Twitter.