Switched at Birth Review: Guess Who's Coming To Dinner

Carissa Pavlica at .
As much as I hate to admit it, "Dressing for the Charade" might have to be known as the episode where John Kennish found my good side.
He was on fire with Switched at Birth quotes, and I love me some funny lines. As far as parental angst goes, for the first time in ages his didn't bother me. Score one for Mr. Kennish!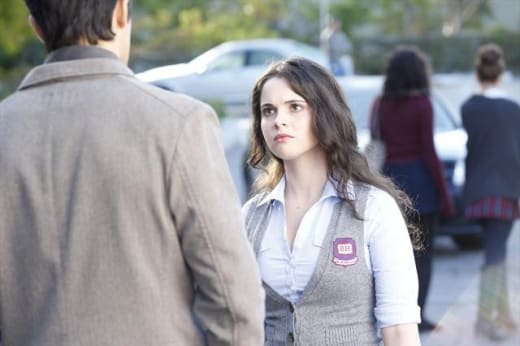 So let's talk about this whole Angelo thing. I completely understand why people might be disappointed in him and upset that there's yet another kid getting dumped into the family. But isn't the reaction a bit drastic? He's no prince charming, but he and Regina were apart when he had a one night stand. Nobody who has a one night stand ever imagines they are going to end up pregnant, man or woman.
Lana went to Angelo, Angelo wanted proof. Both upstanding choices. Until Angelo came to a comfortable place with the whole affair, he was under no obligation to talk about it. Lana shouldn't have walked into a courtroom in search of him. Thinking back on it, that was really poor behavior. She was the bad seed in that scenario. She should have let him tell his family in his own time. Nonetheless, now we're stuck with this mess.
Bay was just getting to know the birth father she wanted so badly, making some pretty awful assumptions about him based on what happened. Regina, who was dating somebody else when she married Angelo, made similar ones herself. The Kennishes were never going to like Angelo. He was a handsome, swinging singly type of guy. When he won money that put him in the same boat as them, it just worsened everything.
If Toby (and earlier Regina) can give Lana a break, they should all give Angelo a break, too. Try to walk in his shoes. Let the crap go and move forward. He'll be Bay's father forever, and she's going to have a sibling forever, no matter where it ends up. Deal with it and quit riding around on high horses that don't exist.
Daphne, who grew up with Angelo for a while, couldn't care less about the situation, which is rather surprising considering she is absolutely gaga over boys in every other regard. Not an episode seems to go by without her having a crush on someone. Travis? They were barely friends despite his very best efforts to woo her, and now we're supposed to believe she might have feelings for him. Sorry, I don't buy it. They have no chemistry at all. If they start writing some into their conversations, that could change, but for now I see her as taking pity on him and I'd hate for him to end up with a pity date.
Everybody deserves better than that, especially someone who can come through with such a kick-ass save like he did with Regina's bedroom and the immigration guy. Did you notice how unaffected Daphne was by his towel wrapped physique? Yeah, noticed that, too. She's just not into him. Even their kiss was barely lukewarm.
For Toby and Lana to have shown up to the party right as the immigration dude was heading out meant Lana must have gotten the super-duper special show around the house, underwear drawers and all. Who takes that long to show someone a house for crap's sake? The only reason he was walking her around in the first place was to remove her temporarily from an awkward conversation. Did he strum a few songs on the guitar, or what?
The episode just got sillier as it went on. With the number of immigration issues in this country and the complexities therein, I cannot believe that an immigration official would threaten Regina with imprisonment for fraud if she was lying about her marriage to Angelo. Sadly, I know it happens. It's absurd. Switched at Birth will never be the place where immigration issues are solved, that's for sure!
The only hope there was for Angelo (and yes, I'm feeling the need to have hope for that poor bastard) was Bay decided to keep her Frieda Kahlo letter, even finally hanging it on her bedroom wall. That has to be a good sign, right?
If you've missed any shows, be sure to catch watch Switched at Birth online and hit the comments with your thoughts on all things Kennish and Vasquez!
Carissa Pavlica is the managing editor and a staff writer and critic for TV Fanatic. She's a member of the Critic's Choice Association, enjoys mentoring writers, conversing with cats, and passionately discussing the nuances of television and film with anyone who will listen. Follow her on Twitter and email her here at TV Fanatic.