The Carrie Diaries Review: Fake It Till You Make It
Leigh Raines at .
Before there was sex, before there was the city, there was just me: Carrie, Carrie Bradshaw.
I have to say that I love the new introduction to this! This week's episode of The Carrie Diaries, "Lie With Me," also reminded us just what it means to walk that thin line of knowing what's right and what's wrong when you're a teenager.
Well, truthfully, this is something most people struggle with their whole lives, yet start to learn about as adolescents when they begin to experience a little freedom.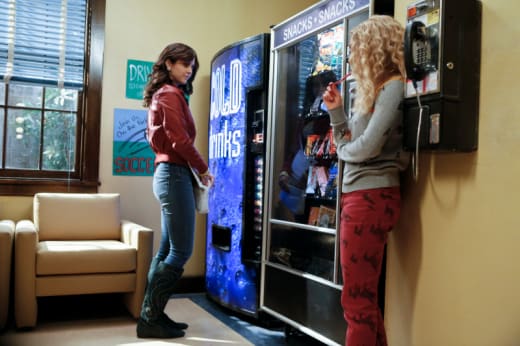 At the end of The Carries Diaries pilot, Carrie got grounded for breaking curfew. With one week to go on her punishment, Carrie started to experience a little cabin fever. Especially when it came to her hot new crush, Sebastian Kydd. As if it's not bad enough that she's missing out on solo time with Sebastian, the school harlot Donna LaDonna (seriously, who names their kid that) was gunning for Sebastian too. And who could blame her? Have you seen that smile?
Donna seems like a girl who is all talk and not so much action. Sure, she smokes joints at the country club and claims to have lost her virginity there on a bench, but dare I say she's pulling Sebastian's leg? She does have a carefully crafted reputation, but she's likely just another high school virgin, kinda nervous and trying to figure it out. Then again, Donna is not our heroine, Carrie is. 
Rookie mistake number-one when lying to your parents to meet up with a boy is pissing off your alibi. I said above that Carrie is our heroine but I have a soft spot for little sisters everywhere who have been screwed over by their big sisters when it finally seemed like they were bonding. Dorrit, I feel you girl. At least Carrie realized her mistake and made up for it in the end. 
I noticed that the only things Carrie referred to as honest and true were the city and her friends. That was an interesting foreshadow. At least by the end of the episode Carrie was learning to balance out her lies and fibs. The thing that will make it so much harder about her father not wanting her to see Sebastian is that he's not outright forbidding her, he's just telling her that he's disappointed and trusted her more than to sneak around with a guy like that.
Who doesn't remember being a teenager and feeling 10 times worse when your parents told you they were disappointed in you and expected better, but weren't going to bother punishing you? It's like you know you violated their trust and you just felt like a complete jackass and you couldn't even be mad because they weren't grounding you! Ah, to be young. My favorite was Carrie's line of utter disbelief when she momentarily thought she wasn't allowed to date.
You're telling me I can't date? Because that's going to be a problem. | permalink
If Tom Bradshaw never allowed Carrie to date, think of all the future brilliance that would never have happened? I don't even want to imagine a world where Carrie never dated enough to have her own column! Speaking of work, I wish she would just tell Larissa the truth. Maybe she could end up with a internship at Interview magazine instead? 
As for the other relationships on the show, I'm surprised Walt and Maggie broke up this early. Producer/writer Amy B. Harris did set up that Walt and Maggie would be going through a struggle this season, so maybe we'll see some back and forth as Walt struggles to come to terms with his sexual identity?
My vote on The Carrie Diaries is so far so good. And I have to just add how much I miss when landlines were all the rage in high school. You remember, right? When people actually conversed instead of sending "world alerts?" (Thank you Girls for that phrase)
What did you think of this week's episode? Hit the comments and don't forget we have a The Carrie Diaries music section now!