The Following is the best new show of the 2012-2013 season. About that, there is no debate.
But in the wake of the Sandy Hook Elementary School shooting in Newtown, Connecticut, there has been some debate over the role of violence on television.
So with this new Fox drama as bloody and gory as anything on network television, producer Kevin Williamson was asked for his take on the controversy during today's TCA press tour panel in California.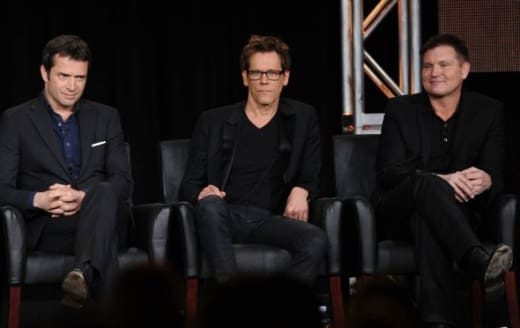 "I think we all worry about it. Who wasn't affected by Sandy Hook? I'm still disturbed when I think of [last summer's theater shooting in Aurora, CO]. We sat in the writers room after that happened and we're all traumatized by it. There's a moment where it becomes too real."
The Following centers on Kevin Bacon as a retired FBI agent, called back into the field after James Purefoy's serial killer escapes and then a legion of his "fans" start committing violent acts of their own.
Noted Bacon, who will be starring in his first TV vehicle:
"We've talked a lot about physical violence [today], but it's all surrounded by things going on with characters. One of the things that people will hopefully latch on to is, in a lot of ways, Kevin Williamson is kind of a softie. He's really interested in the love story of the show, in the personal struggles."
And it's true that The Following is partially a story about the redemption of Bacon's Kevin Hardy, along with his connection to Purefoy's Joe Carroll.
Williamson acknowledges that the series is "scary and horrific," but cast member Valorie Curry - who portrays a nanny that becomes a central character early on - says the most frightening aspect of Carroll and his acolytes is not the pain they inflict.
Carroll's followers do what they do as "a practical way of getting closer to him," Curry said. "And that is scarier than someone who's creepy or does things that are evil. It's all just about love. That's the scariest thing: It's about love."
Watch a Following trailer now and be sure to tune in for the series premiere Monday, January 21 at 9/8c. It's terrific.
Matt Richenthal is the Editor in Chief of TV Fanatic. Follow him on Twitter and on Google+.