"Days of Wine and Roses" was more about Lisbon's hunt for Tommy Volker than the murder of the week, but let's start at the aptly named Oasis Rehabilitation Center.
The place was certainly an oasis, on par with many vacation resorts, offering ample opportunity for Patrick Jane to make mischief.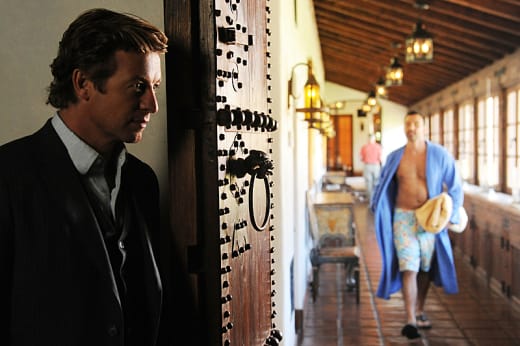 Charlotte (aka Charlie's mother) was blinded to her daughter's addiction. She refused to believe Charlie would steal her ruby necklace. What she failed to realize was that an addict is capable of almost anything. I couldn't help but feel sorry for poor Maria, a character we never even saw on screen, who took the fall for the crime.
Jane playing the klepto was great fun, but it was even better when I realized that Cho and Lisbon were in on the scam. 
In the end, I couldn't help but mourn Charlotte. Her death really was a tragedy. She was young and could have turned her life around. But the one person whose job it was to help her was the one who took it all away. 
Joanne whined that her disease made her do it. Hopefully she can wallow in that self pity for the rest of her life in a prison cell.
But back to Tommy Volker...
Lisbon personally financed a second autopsy on Amanda Shaw. How much do one of those cost? The guilt over not being able to protect the girl was driving Teresa on a crusade that's as much personal as it is professional. 
And Jane noticed.
He knew that the gleam in her eye was either a break in the Volker case or a new lover in her life. I thought it was sweet that he hoped it was love as he said she deserved to find happiness. Jane deserves that too.
But Lisbon would be thrilled with catching Volker and with Grace's help she tracked down his enforcer.
Speaking of Van Pelt, I loved how they hid the actress' pregnancy this week. The rolling cart with file boxes on it was new and kind of ingenious. At least it let her get up from her desk. 
Just in case we forgot how creepy Volker was, he decided to visit Lisbon. In addition to his version of charming intimidation techniques he also told Lisbon, "You look good. You've been working out." The way his eyes roamed her body made me want to take a shower.
He was pushing Lisbon's buttons, hoping for a reaction and it was starting to worry Jane as he told her in this The Mentalist quote…
Jane: I'm just a little worried he's inside your head and believe me that's not a good road to go down. Bad neighborhood. | permalink
And if anyone should know, it's Patrick Jane.
When it all falls apart, when Lisbon's only connection to Volker is gunned down in the street along with two innocent bystanders, Teresa plays her last card.
She ask Jane for help. Jane vs. Volker. Now this should be fun.
C. Orlando is a TV Fanatic Staff Writer. Follow her on Twitter.