The Vampire Diaries Spoiler Pics: Cure Searching & Hunter Battling
Matt Richenthal at .
Is Shane walking the group into a trap? Will Rebekah choke the life out of Elena? Has Damon finally met his combatant match?
All these questions must be raised in light of The CW releasing photos from the February 7 and February 14 episodes of The Vampire Diaries Season 4, "Into the Wild" and "Down the Rabbit Hole," respectively.
In the first set, we see Shane in charge, leading an expedition off the coast of Nova Scotia. Can he really be trusted? What spell in Bonnie conducting now? And does Elena stand a chance against Rebekah? Click through these photos from "Into the Wild."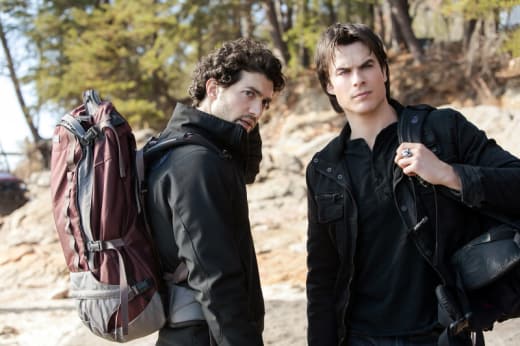 Up next, we have a look at "Down the Rabbit Hole." And it's clear Damon won't be spending Valentine's Day making time with Elena, but rather running into a Hunter named Vaughn.
We don't see him in the following images, but we do see the results of his handiwork, along with Tyler kneeling over Klaus and Caroline simply looking adorable. Browse around now and visit our VAMPIRE DIARIES PHOTO GALLERY for a look at all the new pictures...
Matt Richenthal is the Editor in Chief of TV Fanatic. Follow him on Twitter and on Google+.