With The Vampire Diaries Season 4 FINALLY resuming tonight, we've got scoop on the February 7 installment of this CW smash.
Titled "Into the Wild," the episode will focus on a search for the elusive Cure, as Professor Shane leads an expedition abroad and Tyler confronts Klaus at home. Guess the latter survives tonight's much-teased transformation.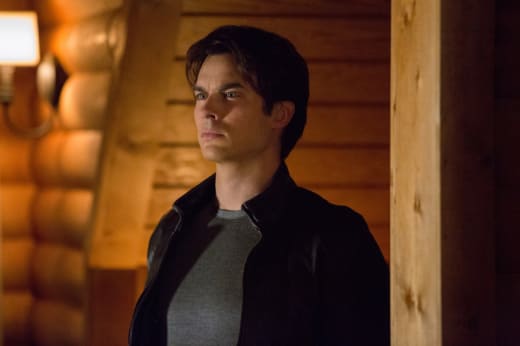 Read the official network synopsis for "Into the Wild" now and then visit our Vampire Diaries forum to discuss!
Shane leads an expedition to a desolate island off the coast of Nova Scotia, where he believes the secret of the cure lies hidden. On the trek to the island's interior, Rebekah and Elena continue their bitter rivalry, Stefan does his best to keep the peace, and Damon accuses Shane of leading them into a trap. 

Bonnie and Jeremy try to figure out the message of the Hunter's mark, while Shane reveals more of the legend of Silas and the witch Qetsiyah, along with his own personal history. 
Back in Mystic Falls, Tyler confronts Klaus, and Caroline is caught up in the violence that follows.


Matt Richenthal is the Editor in Chief of TV Fanatic. Follow him on Twitter and on Google+.