"From This Day Forward," nothing will be the same, as Vegas left me sitting on the edge of my seat, begging for more.
Let's start with my favorite couple. Jack and Mia were so much fun to watch and it appeared they've been playing an awful lot of canasta lately. I suppose that was as good an analogy as any, considering their house of cards was about to come tumbling down.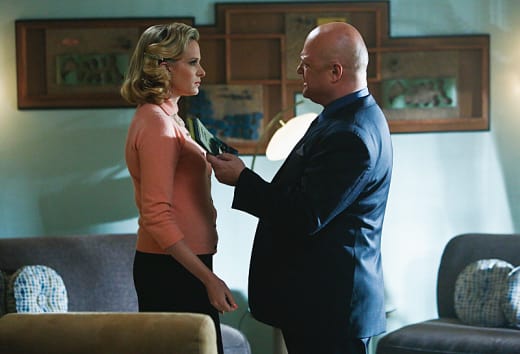 I was so proud of Mia when she stood up to her Daddy not once, but twice. The first time being when she told him she was dating Jack. The part I didn't see coming was Jack's declaration that he loved Mia and he wasn't going to let Rizzo scare him off. I think I love him even more now.
If Rizzo thought there was any way he could have Mia fired from the Savoy and not have her know the order came from him... he's even more of an idiot than I thought.  I loved how she told him off. That she couldn't even get an interview at a bank or corporation, not because she was a woman but because her Daddy was in the mob.
But she didn't leave it there, as she went on to lambast her father:
You're a sad and lonely man who's only happy if everyone else is sad and lonely too. | permalink
She was angry and hurt. Mia's worked hard to be the best at her job in a man's world and she finally found a man who loves her and isn't afraid of her father, yet Rizzo still wanted to take it all away. 
The Sheriff had his own romantic complications as an old flame came back to stir up trouble. This storyline fell flat for me. Even with Ralph mooning over Barbara, it was clear he was never going to do anything now that she's married to someone else.
And as much as she flirted with Ralph, I never truly believed Barbara would leave her husband. I'm still not convinced it didn't have as much to do with the money as it did Ralph being hung up on his late wife.
The shocker of the night came when Savino realized that his own wife was the rat in his organization. 
Granted, Laura was naive when she ventured into this uneasy partnership with Katherine. She thought she could play the silent hero by handing Rizzo over to the law, thus allowing Vince to rise to power. If only it were that easy.
The reality was that she and Vince would always have a target on their backs. There lives would never be the same. And although Laura's goal was to help Vince achieve the power he coveted, the only thing Savino saw was the betrayal. 
I hated that Vince sent Laura back to Chicago. When these two worked together they made one Hell of a team. I hope that their marriage isn't as over as it appears, but I'm afraid that's wishful thinking.
And just how awesome was Katherine when she threatened Vince telling him in yet another great Vegas quote…
People like me can kill people like you. No questions asked. | permalink
There are no weak women in Vegas.
When Vince told Rizzo that Mia was the rat, I almost fell out of my chair. Not Mia! She's my favorite character. But Vince was betting that Rizzo wouldn't harm his own daughter... yet her deputy boyfriend was certainly fair game.
Vince's plan to have Jack take out his biggest problem could seriously back fire because the deputy was having a little too much fun between the sheets to be bothered to answer the phone. Gulp!
A few side notes…
Had Jack told Mia he loved her or was her Daddy to first to know?
The line about powdered rhinoceros horn keeping things al dente was hysterical. It's the 1960s version of Viagra.
Did Marjorie really have those Divorcee Bingo cards printed up? That had to cost some in 1960.
Dixon did look darn handsome in that suit. Too bad he planed to return it.
Now Vegas has left us with a cliffhanger as we wait to find out if Jack and Mia will survive Rizzo's wrath. Next Tuesday simply can't come fast enough.
C. Orlando is a TV Fanatic Staff Writer. Follow her on Twitter.