Everyone on 90210 is fighting for or about something. In "Here Comes Honey Bye Bye," we saw almost none of those conflicts get resolved. Instead, a whole new set of problems arose!
And then there's Liam, who wants to start an actual fight club to channel his rage from being kidnapped by the psycho skank.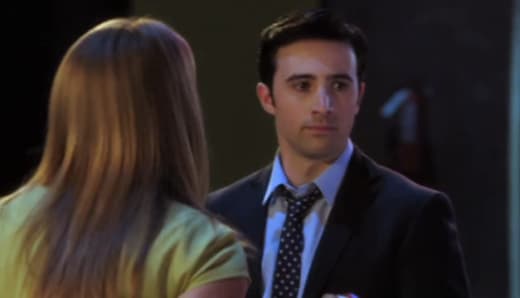 Liam has the perfect temperament to play nurse to Annie, but aside from that he's ready to kick some major ass. As long as Liam can be in the ring or with punching his bag, everything would be alright. 
He's pretty chipper for a guy who was almost shipped to Mexico in a crate. | permalink
OMG, I had no idea Teddy could make a funny joke! Love it. The fact that Teddy's humor is so rare made it 10 times better. Well... Liam's good mood only lasted for so long until he punched the lights out of some guy at the gym and was banned from training there. Nothing stops Liam Court, though, so he turned Navid's lame sausage fest of a party into a Fight Club.
Now he and Navid have somehow won their way into a secret society! This is great for Navid's future business school endeavors, but doesn't help Liam with his rage issues at all.
Meanwhile, Annie was fighting for her relationship with Riley. We haven't heard much about Riley since the 90210 holiday episode but Dixon finally filled Annie in on his experimental spine surgery. Annie and Dixon bicker so much - but why would she be mad Dixon didn't tell her about the surgery? She was kind of in her own surgery at the time healing from a gunshot wound so it's not like Dixon did it on purpose! In the end, although Riley seemed okay at first, he ended up passing away. This is what we were afraid of when Street wanted to get experimental spine surgery on Friday Night Lights Season 2!
This is obviously a devastating turn but we also haven't heard about Riley in months so it's hard to know where he and Annie even stood. It felt like it was kind of thrown into the episode. As far as Annie's brother, they both have the tendency to help people (usually each other) against the other person's wishes. Now Dixon went and set up a secret scholarship for Megan after she specifically told him she didn't want his financial help.
We all knew this wasn't going to work out. Well, Adrianna just expedited the process by finding out what Dixon was up to and blowing his cover. Why should she be working her ass off for his label when the money is going to his girlfriend?
At the end of last week, Naomi found out that Max was not really in Iceland and was really just hiding at his parents' house. These two were desperately in need of some couples therapy so I'm glad they went. However, even though they found some conclusions, things didn't really end well. Max still took off in the middle of the night and left a small gift. He couldn't have had the balls to say goodbye like a man? I'm off of Team Max. 
I've been on my own since I was 16. I've been pretending to be an adult for so long, I'm not, I'm not an adult. And I was mad at you for acting like a child because I never got to be one. | permalink
Last but certainly not least is Teddy and Silver. We found out the real reason Silver couldn't just use a random sperm donor was because it was too risky for her to try IVF again. Now we know why these specific embryos were so important and thanks to Navid (I know Navid... did a good deed!) Teddy now knows too. So Silver can have the embryos...but she can't carry the baby herself, Teddy demands a surrogate. The battle continues.
Whose side are you on? Will Max and Naomi come back to each other? Will Liam find a healthy outlet for his anger? It was an intense and fight filled 90210, wasn't it?