The stakes were high as American Idol contestants converged on Hollywood to see if they have what it takes to be the next winner, as Ryan promised this judging panel would be one of the toughest we've ever seen.
They'll whittle down and weed out those who don't make the grade and at the end. Who'll be left standing? Let's find out now...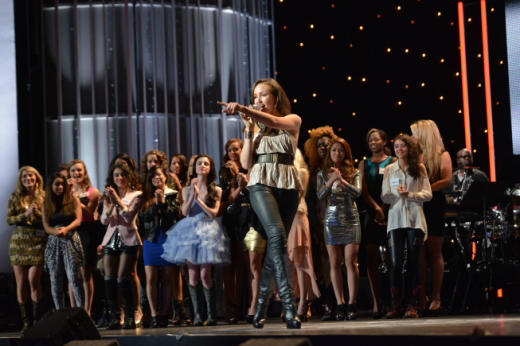 In addition to shaking up the judging panel this year, American Idol producers have also shaken up the competition. Instead of bringing all the contestants to Hollywood at the same time, they've opted to separate this round.
That's right--the first edition of Hollywood week is guys only. No girls allowed. (Except Nicki and Mariah, of course.)
The first round of Hollywood Week is the sudden death a capella round. In addition to impressing the judges, their families are in the balcony watching. The pressure is high as they take the stage.
Micah Johnson sails through with "Benny and The Jets." Peter Garrett, Mathenee Treco, and Devan Jones join him. As do Nate Tao and Gabe Brown.
Karl Skinner, however, who never should have made it to Hollywood in the first place, goes home. Firefighter Dustin Watts and Calvin Peters, singing doctor, also go home. 
Cortez Shaw sings the late Whitney Houston's version of "I Will Always Love You" to close out the sudden death round. Mariah enjoyed it, but Nicki interrupts to say he did a "poor job" and she was "very, very disgusted by it." Randy says it wasn't unanimous but he's got another shot.
Curtis Finch, Jr. takes them to church and gets a "yes." Frankie Ford dazzles as well. Lazaro Arbos, who lives with a stutter, sings "Angels" and brings a smile to Mariah's face and a heart to Nicki's hands. He moves on to the next round.

Trevor Blakney, Bryant Tadeo, and Charles Allen are grouped together. Charles and Trevor receive easy yeses while Nicki takes the opportunity to tease Bryant a bit by telling him he's going home and then telling him she's lying.
Georgia native Brian Rittenberry, whose wife survived cancer, will be going home. 
The contestants who've already made it through sudden death have begun forming groups for the infamous Group Round. But, in true Idol fashion, there's a twist. 
This year, the producers are assigning the groups and contestants may not change groups. 
Contestants have one night to name their group, choose a song, choreograph their number, learn the lyrics, and make it not suck. While they'll perform together, they'll be judged individually and any of them can be sent home at any time. Those who survive will go on to the solo round for final judging.
Performing first are the Mathheads, Matheus Fernandes, Mathenee Treco, Gabe Brown, and Nick Boddington, had an easy night of rehearsal and woke up this morning refreshed and ready to set the bar for the rest of the groups. All four of them make it to the solo round.
Normal Hills, consisting of returning contestant Johnny Keyser and Kareem Clark, as well as two others, got off to a great start the night before. They quickly chose a song and jumped right in. And then realized they didn't know the lyrics. Rule Number One--don't forget the lyrics. Except that rule doesn't seem to apply here. Three of the group members, including Johnny, make it through. Kareem is sent home.
Curtis Finch, Jr., Charlie Askew, and Nicholas Mathis, The Trio, have some set backs when Charlie starts to feel ill during rehearsals. Nicholas rallies behind his teammate while Curtis says he's there to send Charlie home anyway. They church up Bruno Mars' "Lazy Day Song" and all three make it through to Hollywood.
Micah Johnson's group, The Four Tones, consists of Micah, Vincent Powell, Marvin Calderon, and David Willis, all sail through with a "very, very nicely done" from Randy.
Zach Birnbaum, Nate Tao, Cortez Shaw, and Elijah Liu are some kind of wonderful themselves, easily moving forward.
From The Tailors, Paul Jolley and Will White survive while the other two members are going home after nearly the entire group forgot the lyrics.
B-Side, made up of Gupreet Singh, Peter Garrett, Mark La Duke, and Chris Watson, clicked immediately upon being teamed up. Their performance, however, did not click. It was pretty awful. Based on their individual personalities, however, and the judges' belief that each of them possesses more than they displayed, all four of them were saved.
All groups have the option to use the Idol band. Devan Jones' group, however, opt to take a risk and go a capella on Maroon 5's "Payphone." Adrien Madison, Devin Velez, and Devan move forward. Ryan Connor Smith goes home.
MoFlo, Burnell Taylor, Tony Foster, Jr., Mario Jose, and Darien Moses, are afraid Burnell will forget the lyrics to "Some Kind of Wonderful." He remembers the lyrics, but his pitch is off. Mario and Darien go home while Burnell and Tony move forward.
Lazaro Arbos has never heard The Beach Boys. Group members Josh Stephens, Scott Fleenor, and Christian Lopez spent the night frustrated by having to teach him the lyrics. Scott forgets the words when his turn comes to sing and he and Josh are sent home. Josh cries that Lazaro has taken his spot in the confessional and then congratulates Lazaro on moving forward. 
Country Queen, consisting of Trevor Blakney, JDA, Lee Pritchard, and Joel Wayman, had some issues during their practices. First, they couldn't decide on a song. Then, their very, very different personalities and opinions clashed. They finally settled on "More Than Words" and then forgot them. Almost all of them. Trevor and Lee are cut while JDA and Joel move forward.
The four youngest contestants left in the competition were grouped together. DKSK included Kayden Stephenson, returning contestant David Leathers, Jr., Kevin Quinn, and Sanni M'mairura. David is easily the best performer of the group, no doubt aided by being the very last cut made last year. Kayden, however, forgets his lyrics. Sanni and David make it through while Kayden is sent home despite stating that he knows he can do better if he's given a second chance.
The final group of the night, Oz, Adam Sanders, Frankie Ford, Charles Allen, and Papa Peachez, have had a rough go of it. Frankie's the least experienced of the group and begins crying about not wanting to go home before he's even had a chance to sing. They close the night with "American Boy." Or something like it. Of the four of them, Charles and Adam are the only two who seem to have it together on stage. Papa? Peachez? calls them a "hot mess." It's back to singing on the train for Frankie. The rest of the group moves on.
Tonight's episode of American Idol was a whirlwind of testosterone and man tears. In all, 43 men survived the first two rounds of cuts to earn the chance to sing solo numbers for the judges. Tomorrow night, 23 of them will go home and the Top 20 will be revealed and we'll be here to recap their performances!
What do you think of this year's twists of separating the guys and girls for Hollywood Week and having the producers assign the groups?
Miranda Wicker is a Staff Writer for TV Fanatic. Follow her on Twitter.