The end of American Idol's 12th Hollywood Week is upon us, as the girls battle it out during solo rounds. At the end of the day, 20 will be left standing to join this season's top male contestants.
Let's find out who will be moving on to Las Vegas, shall we?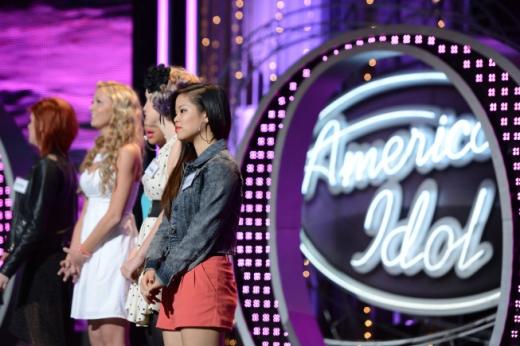 Each female singer will have the option of choosing a song from the Idol song list or singing an original number for her solo audition. This is a new twist for this stage of the competition, one which doesn't seem to have been offered to the guys last week.
Angela Miller chooses option two and decides to sing an original song for the judges. She plays piano with Idol musicians backing her and it gives me chills it's so good. Angela just set the bar so incredibly high it's going to be hard for the other girls to compete with her. Or the guys, for that matter. Keep an eye on her.
A judge favorite, Candice Glover, chooses Alicia Keys' "Girl On Fire." It's clear that she's got range and vocal talent and the ability to go far in this competition. Janelle Arthur follows Candice with a country number. This is her fourth trip to American Idol and she's keeping hope alive that this will be her year. 
Also in this group is Zoanette Johnson, who apparently plays the drums. And plans to "wing it all the way" with a song she made up on the stage during rehearsals. It's a train wreck of epic proportions.
Candice, Janelle, Angela, Jett Hermano, Angela, and Zoanette all make it through to the next round.
Tackling a Mariah number, Shubha Veduhla taps into her inner diva. Juliana Chahayed, whom we haven't yet met, took on Fleetwood Mac. Kez Ban chose to sing an original number, which is what impressed the judges during her audition. It seems not to have impressed them tonight. They sent her home.
Ashlee Feliciano isn't feeling well and takes on "A Thousand Years." Randy calls it a "bold" song choice for taking on such a serious song. And the serious songs keep coming as the girls use their solo audition as therapy. And then comes Melinda Ademi who lightens things up, gets the other girls off their feet, and makes Keith dance in his chair.
Kree Harrison, whom Randy thought lacked star power during her audition, chose Grace Potter's "Stars" as a tribute to her deceased parents. Keith got goosies and said her voice is one of his favorites in the entire competition. 
The judges send Lauren Mink, Kree, and Melinda to safety. It's the end of the road for bullying victim Briana Oakley.
Now that the solo performances are over, the remaining 24 hopefuls are called back to the stage. Lauren Mink, Ariel Sprague, and Holly Marie Miller are cut instantly, leaving 21 girls on the stage. Stephanie Schimel is asked to sing again and she chooses Phil Phillips' "Home." Then they ask Rachel Hale to sing again since they didn't like her first performance. They cut Stephanie and send Rachel to the Top 20.
The Top 20 girls are:
Adriana Latonio
Amber Holcomb
Angela Miller
Aubrey Cleland
Brandy Hotard
Breanna Steer
Candice Glover
Cristabel Clack
Isabel Pasqualone
Janelle Arthur
Jenny Beth Willis
Jett Hermano
Juliana Chahayed
Kamaria Ousley
Kree Harrison
Melinda Ademi
Rachel Hale
Shubha Vedula
Tenna Torres
Zoanette Johnson
But, it's not over yet. Last week the judges kept 28 guys instead of 20 and tonight they'll send 8 of them home.
The guys have been waiting in a holding room all night long. Nicki tells Ryan they haven't made their final decision and need to hear Adam Sanders sing again. He chooses a Celine Dion number and it's not fantastic. Then they call forward Josh Holiday who sings "Georgia On My Mind." He sings so fervently he splits his pants. 
Peter Garrett, Marvin Calderon, Devon Jones, Kenny, Harrison, Will White, Tony Foster, David Leathers, Jr., and Adam Sanders have to leave the competition.
The American Idol season 12 Top 40 will travel to Las Vegas where they will perform for the judges and a live studio audience in the new Sudden Death Semifinals. It feels a bit X-Factor-ish to have the live audience there for the Top 40, but I kind of like it.
What do you think of some of the changes American Idol has made this year? Which of the Top 40 are you most surprised to see still in the competition? (Zoanette, anyone?)
Miranda Wicker is a Staff Writer for TV Fanatic. Follow her on Twitter.