Body of Proof returned after a long hiatus this week - and "Abducted - Part 1" had me bracing for a wild ride as the pace picked up and the new characters popped.
As sad as I was to hear that Peter had died from his injuries and Sam and Bud had moved on from the Philadelphia Police, Mark Valley did a great job of helping me get over my grief.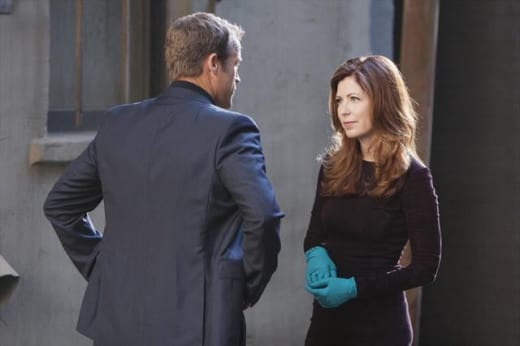 Detective Tommy Sullivan was smart, challenging, cocky and a bit of an abrasive ass... which make him a perfect love interest for Dr. Megan Hunt. Supposedly these two had quite the tumultuous history 20 years ago and it sent Megan heading to Philly to start over.  
You know their relationship must have been hot when Megan's still angry and the sparks still fly between them two decades later. Plus, it's great to see someone who Megan can't control or intimidate, as Tommy told Megan in this Body of Proof quote…
Why don't you go to the academy, earn your badge, make Captain and then you can tell me what to do. | permalink
Although for all of his protests, he obviously found bossy Megan a turn on.
Even Tommy's partner, Det. Adam Lucas, has potential. I loved that he called his new partner out for primping in the elevator as they were about to meet with Megan.  Sarcastic banter is a must for any good team.
The premiere wasn't holding anything back as the new team stumbled across not one but FIVE decomposing bodies. All combat veterans. All hacked up with their throats slit and their spleens missing. All killed within 48 hours of one another. 
It was horrible to think that these guys survived combat only to come home suffering from PTSD and then became victims to a serial killer. Talk about life not being fair.
I figured that nurse Yvonne was involved in the killing the moment we saw her. Why have a great actress like Annie Wersching as a guess star if you're not going to use her for something interesting?
What I didn't expect was that she'd toss Lacey around like a rag doll in the back of a van. Whatever Yvonne's twisted psychology is, and I can't wait to find out, she's certainly taking her role as an evil psychopath seriously. 
A few side notes…
I'm glad they haven't glossed over Peter's death or Megan's reaction. Having a friend die in your arms shouldn't be easy to forget.
I'm so glad Curtis is still around…and that he sings to his bugs.
For as much as I made fun of Megan's crazy shoes last season, I was almost giddy to see her in those leopard heels.
The one storyline I didn't love was Kate's desire to run for public office. The District Attorney was particularly smarmy when he told her, "someone hacking up veterans is bad press for all concerned."
It's not really great news for the veterans being hacked up either.  
Then again, I think I'd rather have Kate's potential political career be the source of conflict between her and Megan rather than Megan's ex-husband. I hope he's gone for good.
Body of Proof season 3 proved that change can not only be good, it can keep you on the edge of your seat and cheering for more.
C. Orlando is a TV Fanatic Staff Writer. Follow her on Twitter.