A Halloween episode on Valentine's Day? How wacky! What will those kooky Community writers think of next, am I right, guys??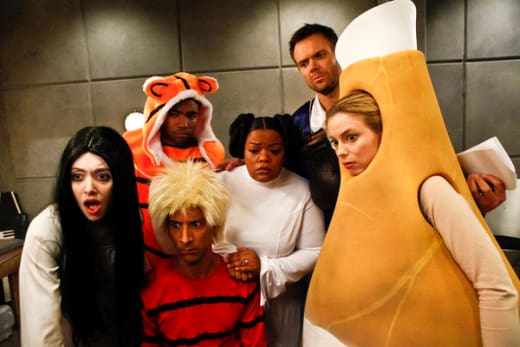 I kid, I kid. "Paranormal Parentage" was certainly not intended to air on National "Overpriced Dinner At The Only Place Where I Could Get A Reservation, Sorry" Day; its scheduling was yet another victim of the show's protracted battles over this past year. And its airing today is yet another reminder of the off-screen drama haunting this new season, of the big black cloud hanging over the heads of the Greendale Seven.
The Halloween episode is one of Community's great traditions, and for the committed fan of the first three seasons, "Paranormal Parentage" was a bit of a miss - though there were some classic Community quotes and zingers afoot (and who could resist that painting of Chevy Chase riding a tiger?). Jeff and Britta's repartee was a bit less sparky that it has been in the past, Shirley's confessions of her hell-raising past was a little less clever and Annie's The Ring joke was Scary Movie-level cheesy, and felt wildly out of place.
But this episode wasn't about pleasing the old fans. For all the ink that's been spilled analyzing fan reaction to the "new" Community, the clear purpose of Community Season 4 is to draw in new viewers, viewers who were put off by the (mostly fun, but occasionally totally oppressive) in-joke-filled, call-back-stuffed nature of the "old" Community.
And in fulfilling that purpose, this half hour furthered the Troy-and-Britta subplot, and just generally introduced new viewers to who these people are and what they're about.
Is Community a machine that can bear this kind of smoothing of its rough edges? That remains to be seen. Though I've been a devoted fan of Community since it first aired, I don't think the show was perfect in its previous incarnation, and I don't think it must inevitably flounder in creator Dan Harmon's absence. I'll be interested to see where it goes and how it tries to balance the things that make Community unique with the kinds of plots that are more accessible to new viewers.
But I do hope the new show runners are careful. Community is a delicate ecosystem, and if they upset the balance too much - too many pop culture parodies done for their own sake, too many silly gags, too many easy emotional explanations - we could have a less-funny knock-off of How I Met Your Mother or Happy Endings on our hands. In which case, I will be polishing the floors of my own panic room...
Did you enjoy the stroll through Pierce's haunted mansion? What did you think about him asking Gilbert to live with him? And was that thing with the wall a reference to The Frighteners?