At long last, The CW's Cult hits the air tonight - but don't expect your typical network fare with the series, created by Rockne S. O'Bannon (Farscape).
What can you look forward to from the extremely dark thriller about a journalist named Jeff (Vampire Diaries alum Matt Davis), who searches for his missing brother and finds that all roads lead to the cult following of a popular TV series called... Cult?
We broke things down for you with some help from Davis, Jessica Lucas (Skye) and Robert Knepper (Roger Reeves/Billy Grimm), all of whom sat down with TV Fanatic last week...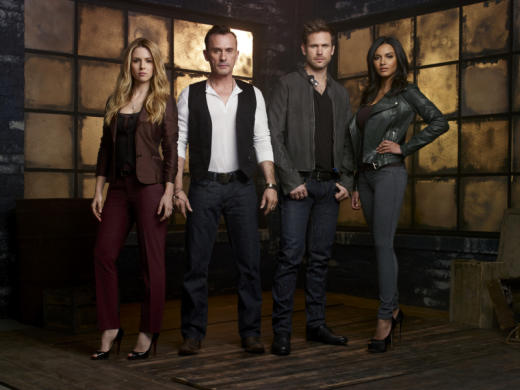 Big Mystery: Davis told us that the main quest, at least initially, will be focused on Jeff's missing sibling. But there will be plenty of ups and downs. "[Jeff] goes through sort of a denial stage and then the acceptance of it all. Then the more it comes into focus, the more determined he gets... so the intensity really is on achieving his objective, which is to find his brother."
Knepper added that Billy's motivations for what he does are also a very big part of the overall mystery.
Love... Actually? Jessica Lucas, whose character is employed by the show-within-the show, said we can expect at least a hint of a romantic spark between her character and Davis' Jeff: "I think it's more of like something that's unspoken. It's a sexual tension that exists. It's a chemistry that exists that doesn't really ever get talked about because of the situation that they're in... there are some circumstances that happen that kind of force them to be drawn together in certain ways."
Double the Knepper Knepper, best known for bringing creepy goodness to the role of T-Bag on Prison Break, plays TWO roles here: Billy Grimm in the "Cult" series within the series and Roger Reeves, the actor who plays Billy. Are the characters different or not so much?
"They're more similar," Knepper said. "This is something that Rockne and I talked a lot about and continue to talk about."
But does Billy Grimm see himself as a villain or is he justified in what he does? "Totally justified... he totally believes he's saving people's lives by having them be a part of his family.
Watch Closely Davis said that Cult is the kind of show that you have to pay attention to: "I think the challenge of the show is for the audience's mind to adjust to the concept. Once it does, it will really open up and I think you'll be able to see the subtleties and the nuance and you'll be able to understand the interplay between the characters much more clearly." (In other words, put down the iPad and phones and pay attention!)
Prepare to Be Shocked "I have to tell you," Knepper explained, "every episode I did there was something very shocking that Billy does… and has a justifiable reason for doing it. Every episode for me was that way." 
Episode 6 is a Big One When asked, both Davis and Lucas said that, outside of the pilot, they cannot wait for audiences to see the sixth episode. "I can't say too much about it obviously, but to me," Davis said, "that is probably my favorite script that I read and probably the one I'm most excited to see."
Lucas added: "It's a great episode for me. I haven't seen it, but something happens to Skye through circumstances and she ends up in a perilous situation and then it plays with the role that like she's sort of in two realities."
This isn't The Following While there are some similarities, "I think they're very different kinds of show," Davis said. "I read Kevin [Williamson's Following] pilot and I absolutely loved it. I thought it was fantastic. And I read the pilot for Cult, obviously, and I thought it was equally fantastic in a completely different way. So will that mean the followers of The Following will translate? Maybe, maybe not. I don't know. It's hard to say. But it's a very different tone."
Season Two? While it's too soon to know if the show will click with viewers, Knepper is already teasing the first season ending: "I would say the most shocking [moment] would be the last episode. Some huge event happens in that that is going to be a big cliffhanger for people for what hopefully will be the second season."
Are you excited for Cult and ready to dive into the dark series?
Jim Halterman is the West Coast Editor of TV Fanatic and the owner of JimHalterman.com. Follow him on Twitter.