"False Confessions" lived up to its name as not one but two confessions kept the police spinning their wheels and the guilty parties out of jail.
Bobby's Confession. I expected nothing less from Bobby. He's incredibly loyal and protective of those he loves. Always has been and he was right. If Emma found out that Ann shot her father, she might never forgive her.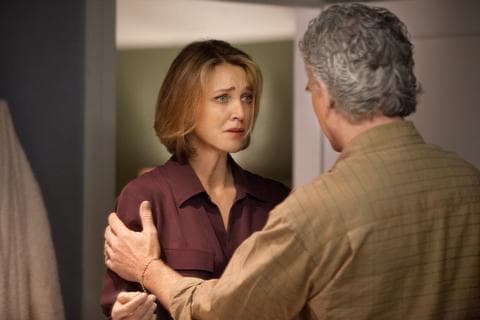 It was a shame that the thought never occurred to Ann. Plus, did she really want Emma stumbling over her father's body? Ann obviously wasn't thinking clearly.
The down side of the whole debacle was that Bobby looks lousy in orange. He really needs to stay away from prison jumpsuits.  
The best moment was the conversation between Bobby and J.R. First, Bobby brought up how times had changed. How they used to knock back drinks for no reason at all. So true.
Then J.R. asked his brother whether he was protecting his "trigger happy wife." Bobby didn't even have to answer. The smirk on his face told the story. But J.R. knew better than to argue with his little brother. As he said in this Dallas quote…  
 Try to talk Bobby Ewing out of what he believes is right. I got a better chance with winning the good samaritan award. | permalink
I'm really going to miss the scenes between these two powerhouse characters.  
To Pamela's Rescue. John Ross' desire to save Pamela surprised me. J.R. was right. There's more to it than their business deal. I think John Ross feels a kinship to Pamela. They've both spent their lives trying to gain the approval of their less than stellar daddies.
Sue Ellen was smart to warn John Ross. If he ever wanted to get on his father's bad side, going with Cliff Barnes was definitely the way to do it, no matter what his reasons. I'm not sure John Ross knows that the full weight of his father's fury really is.
Who would have thought that Frank would be the one to rescue Pamela? The problem I had with this plot twist goes back to my problem with Frank. I just don't buy that cheap, selfish, self-absorbed Cliff Barnes picked an orphan up off the street and took him under his wing. It's never rang true to me. The man barely made time for his own daughter.
I only began to feel sorry for Frank at the end. In feeling like he was Cliff's son, he forgot he had a daughter. The quickest way to destroy a 25-year relationship is to threaten someone's child.  
The best part about the entire tale was that it cleared Pamela and drove Christopher crazy.
Whiny Christopher. I wanted to like Christopher from the beginning of the show. He's Bobby's son and I've always loved Bobby, but Christopher never stops whining. I really hoped they'd haul him out in cuffs for making such a scene in the courtroom.
He and Elena managed to annoy me and they barely had a scene together. Something about the way she hugged him when he found out that they'd found Tommy's body and thought Pamela was truly a murderer made me cringe.
A few quick side notes…
John Ross needs to ditch the black socks when he stumbles out of bed in his boxers. It's ruining that rumpled, sexy image.
Pamela is the thinnest pregnant women I've ever seen. How is she possibly having twins?
Ryland's momma is seriously twisted. How much of that looniness has rubbed off on Emma?
Thrilled that John Ross knows that Christopher's secretary is playing him.  
I wonder what Lou's retainer is. The Ewings certainly keep him busy.
With Ryland accusing, Bobby recanting, and Ann confessing, where does that leave them all in this horrible mess? One more week until we find out on the next.
C. Orlando is a TV Fanatic Staff Writer. Follow her on Twitter.