It is finally upon us.
The Psych Season 7 premiere airs tonight on USA and, in anticipation of this long-anticipated event, star Dule Hill and creator Steve Franks jumped on a conference call with reports last week to preview new episodes and new romances.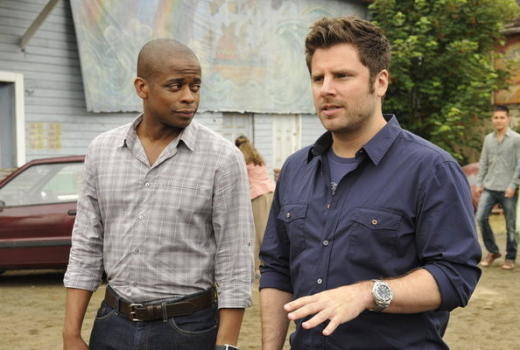 With Gus entertaining the advances of two women this spring - played by Parminda Nagra and Garcelle Beauvais - Hill joked that his character is "the perfect boyfriend," adding:
"He's had a lot of time to think about it, a lot of time to do different charts and do different research about what qualities women look for in a boyfriend and made sure that he has is list and he's checked it twice. So he's ready to take the plunge."
And how might that plunge-taking affect Gus' relationship with Shawn?
"When you change any dynamic in a relationship there's going to be some kind of re-shifting. You know, you can't throw a stone into a pond without there being some ripples," he said. "So I think you'll see that happen with Shawn and Gus but in the end I think it'll all work out because, I mean, Shawn and Gus can't live without each other."
Franks, meanwhile, teased a "giant secret" that will affect Shawn and Juliet, though was quick to add Psych is a "joyous, happy" series.
"Nothing too awful ever happens to anyone."
Among other developments viewers can look forward to on Season 7:
An episode inspired by Clue.
A "found footage" episode directed by James Roday.
And, yes, that special two-hour musical episode whose air date is yet to be announced.
Visit TV Fanatic the moment tonight's premiere concludes for our detailed recap and review.
Matt Richenthal is the Editor in Chief of TV Fanatic. Follow him on Twitter and on Google+.