"Possibility Two" pitted Sherlock and Watson against the intelligence of scientist who specialist in genetics. Talk about clash of titans: the intellect of Sherlock Holmes against that of the geneticist.
I would have put odds on the latter had Watson not been in the picture. Her knowledge of medicine from being a doctor tipped the scales well into Sherlock's favor.
Even more so now that Watson is an official detective in training because Sherlock is not pulling any punches when it comes to her education. Given the amount of reading, defensive training,and field work he has her immersed in, Watson may find that medical school was a walk in the park. 
I'm betting she will be able to keep up with her instructor without any trouble. Okay, maybe a little trouble.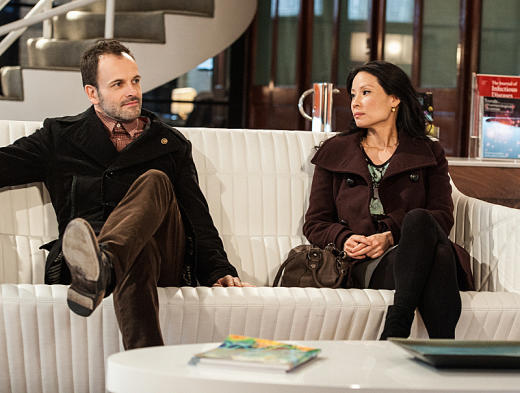 Was anyone else surprised how easily Sherlock is at complimenting Watson when she was right? Maybe I was expecting him to be more like Sheldon from The Big Bang Theory and only point out when she does something wrong and make her do it over and over. 
But it turns out I was wrong: Sherlock is actually a really good mentor and teacher. He encourages her and builds on what she knows and uses positive reinforcements to help boost her confidence. All signs of a great boss, really. 
Hey, Sherlock, if Watson doesn't work out, let me know. I'm pretty sure I could become a world class detective with your help. Darn. Maybe not. But I can dream, right? 
All in all, the only thing about the episode that kind of surprised me was how little we saw of Gerald Lydon. The preview last week made it seem like Sherlock spent a good amount of time trying to turn down the case and the reality was very brief.  
But that didn't really take away from an otherwise great hour. I'm giving the episode 4.8 rare honey bees for stepping up to the plate and hitting a home run the first week of dual detective-ing. 
Jim G. is a TV Fanatic Staff Writer. Follow him on Twitter.