It seems like once a season we're going to have an episode of Girls that stars only our main character, writer and director, Lena Dunham.
In Girls season 1 it was when Hannah went home to Michigan. On "One Man's Trash," meanwhile, we watched Hannah have a fling with a sexy older guest star, Patrick Wilson.
The episode did give us a brief clip of Ray flipping out at Grumpy's, but that's just Ray being the usual cranky Ray.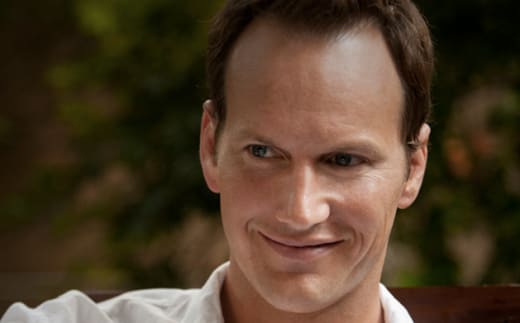 Hannah meets Joshua (Wilson) when he comes into Grumpy's to lodge a complaint about someone using his trash bins. Obviously it was Hannah because she lost her dumpster key and is afraid to tell Ray. Wouldn't you with his attitude?
Despite not even knowing his name, Hannah goes into Joshua's home to confess. 
I could really be putting myself in a Ted Bundy situation. He also looked handsome, clean...and probably had a brownstone. Okay. | permalink
The result of her confession is a two-day fling completely in the confines of Joshua's beautiful brownstone. He's 42 and she's 24. He's separated but seems to have a stable, really well built life and a very adult house (to say the least.) This is obviously not what Hannah's used to when it comes to guys. Naturally she's attracted to him, because let's be honest: Hannah is attracted to most guys. I mean, she slept with the Laird, the building junkie, just a few weeks ago.
Even though all we watched was this 48-hour affair, there was definitely a lot of subtext. The way Hannah interacted when finally faced with a stable guy who wants her to stay over with him was interesting. She wanted to be begged. Something about being with a guy who was fairly uncomplicated made her have a whole mess of realizations.
Mainly that something is broken inside of her. Really she just wants to feel everything and be loved and not feel so damn lonely. Joshua just wanted a girl to literally come in off the street who he could drink wine with, bang on his ping pong table and look at the moonlight with. 
As it goes with flings, it came to an end. When Hannah crossed the line from fun to neurotic, that put a damper on everything. Then again, if I just fainted in a steam room I'd probably be feeling like a disoriented mess a little bit. Nice meeting you Joshua, and good riddance.
What did you think of this week's episode of Girls? Did you enjoy Hannah's brief affair? What do you think prompted her freak out? Did you miss the other girls?