How I Met Your Mother Review: Hello Sailor

Chris O'Hara at .
Kyle MacLachlan sailed under a lucky star to make his return as The Captain this week on How I Met your Mother.
Overall, "The Ashtray" was one of the best episodes of the season, hopefully putting the wind back in the sails of fans everywhere. 
Barney's "Ted bubala" was a far cry from Harry Ellis's "Hans bubbie" in Die Hard, but his speech about his need to be involved in every epic story was one of the best How I Met Your Mother quotes of the week. Barney is usually at the center of this show, which takes ordinary life and turns it into a series of crazy stories, but tonight belonged to the trio of Ted, Robin and Lily.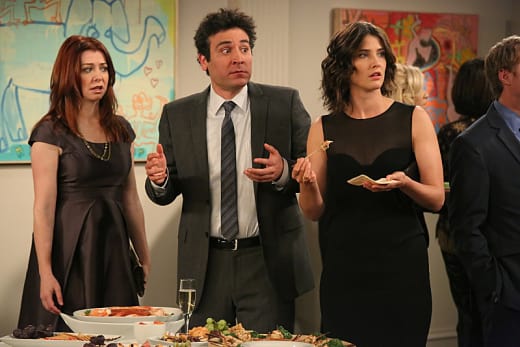 From Boats-Boats-Boats Becky, to his arrogant reminiscing about sticking it to Zoey, Ted's account of the evening was a great start to the half hour. After seeing The Captain through Ted's eyes, if anyone was to have a private island on which they would hunt the most dangerous game, it would be George Van Smoot.
When Robin revealed that Ted's recollection was slightly off due to the huge "sandwich" he and Becky had shared, prior to the art show, things got even better. Ted's inner dialogue about The Captain was actually spoken out loud and his high-induced hilarity culminated in his high-fiving the waiters tray of hors-dourves. The use of the ashtray as a snorkel mask was also pretty great. 
Of course, we then learned that Robin should not have been casting stones at the stoned, as Lily reminded her of how long that "business meeting" of hers ran earlier that evening. She was all, "Barney who," as she drunkenly threw herself at The Captain. While there was no "hands stuff," Barney surely would not have approved of the kiss on the bed. I do love seeing Robin tie one on, though, so he won't hear about it from me. 
In the end, it was Lily that The Captain was calling Ted about. Not because she lifted the ashtray, but because of her art acumen. Amidst all the comedy tonight, we got a classic Marshall and Lily moment when she confessed to him that she felt like she had missed her chance to pursue her passion. Being a teacher on any level certainly is no shortcoming, but still, you could really feel the regret in Lily's voice. Even Marshall offering to punch a girl in the face for her did little to cheer her up. 
This type of interaction between Marshall and Lily has been missing from How I Met Your Mother Season 8. I was thrilled to see its return tonight, as it's one of the best aspects of the show. Marshall and Lily always do well to keep the show grounded, while Barney does well to push the limits of reality. I don't know about you, but I think I may have found my Halloween costume for next year in the Royal Archduke of Grand Fenwick. What did you think?