Jim's Notebook: Open to Bones, Teen Wolf and More!
Jim Halterman at .
You'd think I spent time in the old West this week, considering the way guns were a-blazing all over the place in my latest scoop-filled Notebook.
Shots will be fired on this Monday's Bones; we will get the repercussion of Ann shooting her evil ex on last week's Dallas; cops will be in the line of fire on the Southland Season 5 premiere; and finally - because why not? I-  stopped by the werewolf-heavy set of Teen Wolf for some chats with the cast...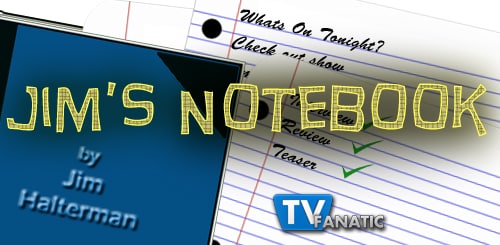 BONES We already know that Emily Deschanel's Brennan is shot in this Monday's episode - and while the actress didn't want to spoil anything, she did tell me yesterday that one thing fans can expect to see throughout the rest of Bones Season 8 is more of those great scenes between BFFs Brennan and Angela, as well as with Cam.
"Yeah, there's definitely some kind of hearts to hearts," Deschanel said. "We're overdue for even more connection between Angela and Brennan. I think we could have more of those. There's a big thing [when] Cam's romance is revealed...and Brennan and Cam interact about that... you will see more heart to hearts."
The star also said that Pelant will definitely figure into future episodes but, as Executive Producer Stephen Nathan revealed to me on a separate phone call, the writers are still breaking those season end episodes. Still, expect Pelant's presence to be felt in a big way. (More on my chat with Nathan next week.)
SOUTHLAND If you want a good cop show, look no further than this TNT gem, which opens Season 5 next Wednesday. As for what we can expect? Especially concerning what happened at the end of last season with Ben McKenzie's character, Officer Ben Sherman?
"We're not really ever going to know," he told me earlier this week. "At best case, he tracked down a pimp that he had a beef with and the guy pulled a gun and then shot in self-defense. At worst, the pimp never even pulled a gun and Ben shot him in cold blood. Regardless, he's getting rewarded for it [in the season opener], and that leads him to believe that he's invincible, more or less."
And watch for guest star Chad Michael Murray to play a very different character than what we're used to seeing on One Tree Hill - and that goes for more than just the moustache you'll see him sport in the first two episodes of the season.
DALLAS Brenda Strong is so good at keeping secrets! While she hinted to me recently that her character of Ann would be going through a lot in Dallas Season 2 who knew that meant pumping her evil ex Harris full of lead?!? Does the actress think Ann knew exactly what she was doing when she pulled the trigger?
"I think there was an altered state that I felt she needed to be in in order to make that decision," she told me. "I don't know that she knew when she arrived that she was going to complete the intention of shooting him. I think she has been pushed to such a degree of heartbreak that there was an altered state that she was in and it was the last thing that he said that allowed her to say 'Yes, he deserved it.'"
One thing that surprised the actress was that she's gotten so many thank-yous from fans for plugging Harris with a bullet. (I'm among them. He had it comin', for sure!) But don't count Harris as dead. His portrayer, Mitch Pileggi, was upped to a full-time cast member this season, so he's sure to survive. But Strong promised Ann will be butting heads with Harris's mother (the awesome Judith Light) in coming episodes. 
TEEN WOLF The MTV series is shooting season 3 in Los Angeles and I stopped by the set this week to chat up fan favorite Dylan O'Brien, who was definitely not slacking off during his hiatus. Instead, he was working on a big screen comedy with some very big box office names.
In The Internship, "Owen Wilson and Vince Vaughan are guys in their 40s, middle-aged salesmen, who lose their jobs, the company goes under, and they have to reinvent themselves in the new world of technology," he told me. "They sign up to be interns at Google…and it's a disaster because they're a part of intern week and the interns are grouped into teams and compete against each other and the winning team gets jobs at Google."
But like Stiles on Teen Wolf, O'Brien's character isn't one of the cool kids: "We're kind of the 'Bad News Bears' who get slumped together," he said with a smile. "Our team sucks and we have Owen and Vince, who don't know anything. Then the rest of us are just the outcasts. There's a reason why we're not in any other group."
The Internship also features familiar TV faces like Rose Byrne (Damages) and Jessica Szohr (Gossip Girl) and is set to hit screens on June 7. (More Teen Wolf chats coming closer to the premiere later this year)
That's a wrap for this week! Anything else you're dying to know about your favorite show? Leave a comment here or you email me directly at jim@jimhalterman.com. And remember: follow @TVFanatic for all your TV scoop!
Jim Halterman is the West Coast Editor of TV Fanatic and the owner of JimHalterman.com. Follow him on Twitter.