After an exhilarating start to Justified Season 4, the series has limped into the midway point the past two weeks.  "Money Trap" was the least successful of the first seven hours even though it still consisted of some great chemistry between Raylan and Arlo and the first shootout in a while.
If memory serves, not since squaring off against "The Ice Pick" back in the season three premiere has Raylan had a legitimate gun fight like this.  Although Jody Adair had absolutely no chance at all, the stare down, the quick pull, and the merciless result was reminiscent of our first meeting with the cowboy down in Miami in the pilot.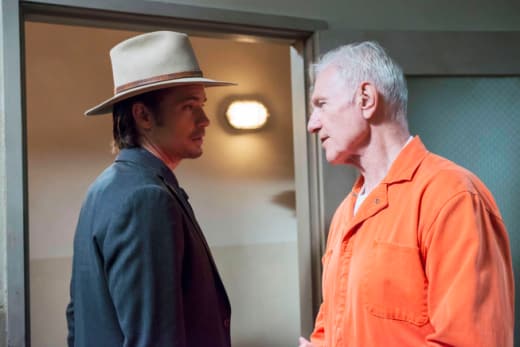 It was classic Raylan Givens, and just as we don't want to see him kill people and win a showdown every other week, we also don't want to be without an event like that for too long.  I believe this was the first person he has killed this season. Sometimes it has to be done, and on occasion he's the man to do it.  I like seeing him use his skills.  
I also like watching Raylan interact with Arlo.  It's not the father/son relationship anyone would want, but it's one of the most interesting.  The smile that came over Arlo's face when he knew he might be getting something out of Raylan was the happiest he's been with his kid in a while.
Then again, he quickly didn't like the offer and told his son to "eat shit."  Finally, in speaking of his father's coming sooner rather than later death, Raylan said to Arlo, "I'm gonna be glad when I hear the news."  Does it get any colder than that?  I mean, I have a man crush on Raylan Givens as big as Mount Rushmore, but even I didn't like hearing that out of his mouth.
On the other side of the "Money Trap" were the things that either weren't that interesting, or didn't make much sense.  Boyd and Ava at the rich swingers party didn't bring much to the table, and the rich shot callers telling Boyd what to do really was a head-scratcher.
I like the idea of an ever expanding world of Harlan County, but there are times it works and times it doesn't.  As the seasons go on Justified is trying to add dimensions to this world, and with the hill people it worked because it made sense that we would have never heard of those people until then.
This doesn't work.  Why would it take until season four for these guys who make big decisions in this county - and played puppet master to Bo Crowder - to play into anything that was going on?  
Did you think of Bo Crowder as someone who just did what the big wigs told him?  I didn't.  And how come they are wanting Boyd to do something for them now?  Because he came to them looking for something else?  Would this never have happened if he hadn't made his way to the party looking for Drew Thompson?
For maybe the first time in three and a half seasons watching Justified, I thought to myself, this doesn't make much sense at all.
The rest of the hour was enjoyable enough to make "Money Trap" another quality hour of television, but I can't help but worry about how many more times they will attempt to do something similar.
What did you all think?  Did the good outweigh the bad?  Or am I overthinking what I call the bad?  What were your favorite moments from this week?  And how much have you enjoyed Justified through the first seven episodes of season four?
Dan Forcella is a TV Fanatic Staff Writer. Follow him on Twitter.