It's tough to play the "hot guy" role when you've packed on a few pounds, leaving you with less of a six pack and more of a keg.
And yet, while Jim learned that the hard way after his failed audition attempt, it ultimately didn't stop the revelation that being good looking doesn't guarantee you a hook up.
In a weird way, "Health" was almost a further extension on the misadventures of finding "Love," or at least passing on the expert dating advice torch to Billy.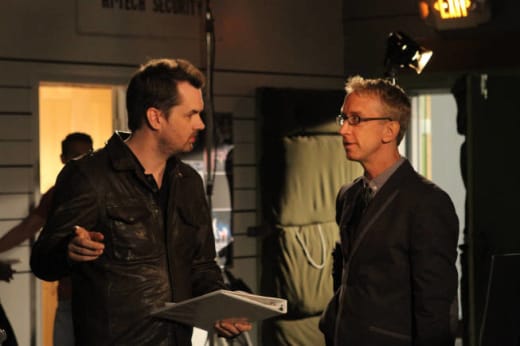 Except here, Jim spent most of his time trying to be a better actor, which coincidentally led him to seek the advice of Andy Dick. Cue the irony.
While Dick normally has become accustomed to playing way over-the-top characters that you find easy to dislike, this version of the star was a humorous attempt at playing off the entire stereotype of the man himself.
What you got is a spirited, yet failed attempt to turn Jim from Australian slob to American hottie. Of course, it's not really Andy's fault or anyone else's for that matter.
Jim's personality is just one that would rather be lazy on the couch, and at the same time, that temperament rubs off on everyone else. Take the personal trainer Andy forces upon Jim, who after three weeks time goes from ripped dude with a focused diet to chubby guy who smokes, drinks, and eats pizza.
It's like he turned into some warped version of Jim.
This new transformation even allowed him to pick up chicks. And you have to think that there's no way Jim could possibly be bringing all these girls home, but through his tactics - and the best wingman around, Billy - he's finding new babes left and right.
Leave it to Billy to go from the learner to the master, pacing back and forth in his wheelchair and passing on the worldly knowledge about girls. Was there a little Star Wars reference even thrown in there?
All the while Jim's completely ignored working out and blew off Andy Dick's acting class (which was actually pretty funny that there were that many people taking it), only to end up having a chance for another role.
As fate would have it, Jim's rant about actors became the monologue he was auditioning for, and he still didn't get hired for the job. Maybe he should just leave acting to the likes of superstars. Like Andy Dick.
Of course, when all was said and done, Jim was back to his usual antics at his place, which really resembles a frat house now, where he, Billy and Steve were able to witness the now fat personal trainer get it on with Ramona.
Poor Steve, he was barely in this episode, but his room and bed got some major use.
This was a goofy episode that really focused on the connection between looks and a love life, while simultaneously reflecting on Jim's lack of an acting career. While there were some weird moments you couldn't look away from, there was still plenty of good-natured humor on another simple idea. Heck, there was even more Rodney.
Sean McKenna was a TV Fanatic Staff Writer. He retired in May of 2017. Follow him on Twitter.