Smash Review: Introducing The Hit List

Carla Day at .
Smash season 2 definitely has moved in a new direction. The focus has shifted away from the character's personal dramas to focus on the Broadway world and the business of making musicals.
In "Dramaturg," four separate musicals were involved in the story: Bombshell, Veronica's musical, Jimmy and Kyle's The Hit List and Ivy's new show. Each one is at a different stage of development and if you are intrigued by the behind-the-scenes making of a musical, you probably love this episode as I did.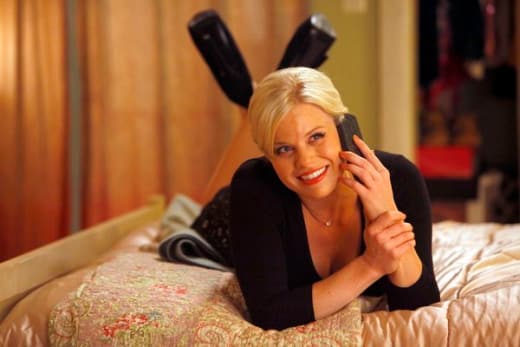 That's not to say there weren't some problems with it, but overall, I dig this new focus. 
From the Smash pilot and forward, the parts of the story that held my attention were the songs, the workshops/tech/previews and the individual struggles to make it. I didn't care for the backstabbing Ellis, the cheating Julia or the continual over-the-top rivalry between Ivy and Karen. With this new format, both Ivy and Karen have the potential to find success, while going through personal struggles that have nothing to do with each other.
I don't expect that the personal side of these characters will be ignored, but they will be better grounded. In particular, I'm looking forward to seeing a Karen-Jimmy romance. Though, for now, there was plenty of professional struggle to go around for all the characters.
Derek went from the most sought after director to struggling to find work due to his womanizing. This somewhat humbled Derek is growing on me. Instead of holding a power position in a relationship like he did with Ivy, he is alone. His relationship with Karen is strictly professional and at times almost that of equals ... almost. Even when he meets with Veronica about directing her new show, she holds more power than he does. Derek is still Derek as he proved while directing during the rehearsals, but he's growing.
Karen has made the biggest leap of all. She went from "nobody" to the lead in a show and more importantly to having Derek's ear. She's come into her own since auditioning for Bombshell. While Ivy always was the stronger Marilyn, I've thought Karen was just as worthy of the role. However, now with The Hit List in play, it seems much more suited to her abilities. It's fresh, energetic, and modern. 
She has paid it forward. She found success and now she's helping Jimmy and Kyle find it as well. Jimmy is at times highly unlikable, but given his struggles it begins to make sense. He's a realist, while Kyle is the dreamer. Jimmy's used to being let down and he expects that Karen and Derek will just like others have in the past. He's quick to move on, as he said to Derek after showing up at the apartment, "That's cool. You kept your promise."
At this point, I wouldn't mind if Bombshell became an example of a show that never makes it to Broadway, except for the defeat it would be for Eileen and also the writing team of Julia and Tom. Even though Eileen did end up taking money from her ex-husband, the show is her way to prove that she can be a success on her own. And that doesn't happen until the show makes it to the stage. And despite their annoying behavior at times, Julia and Tom have put their all into the show and should see that work rewarded. 
Now that Julia has left her depression behind, she has anger instead. Her pride in her work is honorable, but in this case misguided. After seeing all the other shows that Peter has worked on and helped, it was a surprise she wasn't more open to his help. Peter was condescending, but he got her to look at the story in a new way. Their relationship started out contentious, though there was a heat there that she could use for the book.
Peter is successful at what he does because he's able to push the right buttons to help the writer be better. Julia and Tom have worked together for so long that they have a groove that has put them in a rut. Peter will shake that up. While I don't think Julia will ever entirely accept Peter's methods, he has become her muse in just their few short meetings. It was difficult at times to watch their interactions because they were so intense and uncomfortable, yet that's what made them work.
Overall, I'm excited by the new developments, projects and potential on Smash. The characters and relationships are becoming more complex and the addition of the new musicals opens up plenty of opportunities for success and failures of all the characters. The biggest letdown on "Dramaturg" was the musical performances. All the songs were good, but unfortunately none of them were particularly memorable.
Whose story are you most interested in watching this season? Did you enjoy the conflict between Julia and Peter? Is the somewhat humbled Derek a good move or do you miss the arrogant womanizing Derek?
Carla Day is a staff writer for TV Fanatic. Follow her on Twitter and on Google+.