The "War" we waited for all year finally arrived on the Suits Season 2 finale, but the parties at issue were quite the surprise.
I always expected the battle to be waged between Harvey, Jessica and Hardman. Instead the real war was fought between Harvey and Jessica - and what a fight it was!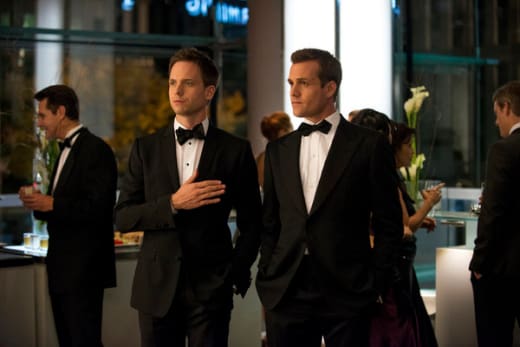 It really all started when Harvey went at Darby, swinging with a wager that he was out of turn to make anyways. In all honesty, that bull-headed move really sealed his fate.
That said, it seems there was a conglomeration of additional factors, all of which conspired to bust him out of the big leagues and named-partner contention.
What sometimes gets me about Suits is how fast it moves. In an attempt to not miss the forest for the trees, I usually pick up big picture stuff in lieu of the minutiae. This week, that minutiae - in the form of the back and forth between Harvey, Darby and Jessica over the frozen assets of Pearson clients by Darby's - was a bit over my head.
What I did get, though, was that it was really just a power struggle between Jessica and Harvey. He wanted to do everything in his power to prevent a merger and she wanted to do everything in her power to make sure it went through for the future and security of the firm.
In all honesty, I feel like Harvey and Jessica's signals crossed like ships in the night. Harvey wanted to be out of the vulnerable position of having a single-partner and wanted to move up from his subordinate status in his mentor-mentee relationship with Jessica. She wanted to prove that she was on top and put Harvey in his place.
That doesn't excuse her behavior in trying to assert that relationship, however, as she proceeded to assert it by placing a firm wedge in the middle of Mike and Harvey's bond. That was uncalled for. Just because Harvey had one over on her, she squashed it like a bug and threatened to squash Mike with it.
Jessica will no doubt be paying for her sins and feeling the consequences of her decision to merge, which will likely include a second round with regards to the power she thinks she's secured.
While Jessica un-friended everyone at the firm, Louis made a new pal of his own in Nigel Nesbitt. Clearly the British version of Louis, Nigel provided one of the few comedic outlets of this episode. The mud back and forth was refreshing and fun. I really would like to see these two pal around. But if Louis' decision to place his new friend on the efficiency list, there may not be much more bromance in their future.
But from bromance to romance, two relationships took a turn for the unexpected.
Harvey and Scottie: Now we knew that Scottie clearly had feelings for Harvey, but I wasn't sure they were at the level of love, at least not with such force that she would seek out Donna to try and enhance her chances with him. That in itself was a little more than I bargained for. But I'll be darned if the next minute she wasn't giving up classified documents to prove her genuine desire to get Harvey's attention in a way that doesn't involve suing him.
Unfortunately for her, that choice came at the ultimate price in terms of getting her name on the door: it got her fired.
Color me impressed, though, that Harvey went to bat for her with Darby. Now if only we knew which location her chose to have her assigned to.
Mike and Rachel: The long overdue consummation of their relationship finally took place, but probably in a way some of us could have done without seeing so much of. Mike coming clean to Rachel has needed to happen since the early episodes of the season, but the fact it had to come out in the heat of the moment when Rachel confronted him about not getting himself any further engrained in the Harvard rejection mess might play badly once the adrenaline cools off.
That's something we're gonna have to keep tabs on when the show returns for season 3. But it's certainly a liability that there is now an additional person that know Mike's secret. Here's to hoping she'll keep it.
To everyone at Suits: Thanks for a great second season, we can't wait to see what you have in store for season 3!
Everyone seems to have accepted their current situations for now, but will they still accept them come next summer? Time to sound off below.
C. Charles is a TV Fanatic Staff Writer. Follow her on Twitter.