The Americans Review: Making the Impossible Possible

Carla Day at .
With the Cold War intensifying, the spy game was stepped up by both sides on The Americans this week. The Jennings were tasked with a seemingly impossible mission, while their FBI neighbor developed an important asset on "The Clock."
In The Americans premiere, Elizabeth used her sexuality to obtain crucial intelligence about the whereabouts of a Soviet defector. This time it was Philip's turn. The use of sex by spies is nothing new, but it's sure to complicate their already unique arranged marriage.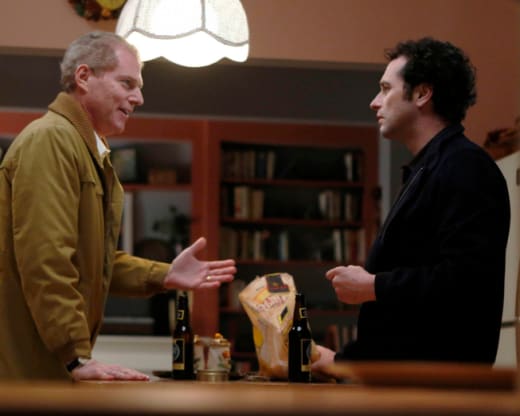 Through their years together, they have developed some level of love for each other and especially for their family unit. Going forward, I'm looking forward to seeing how Philip and Elizabeth's relationship grows, as well as, their loyalty to their homeland. 
After being fiercely dedicated to the Soviet Union, Elizabeth let the strain of the job start to break that down when given a few days to complete the mission instead of the usual months. It's one thing to build an asset, like the woman that Philip seduced into willingly getting photos for him, but an entirely different situation to force someone into action. This mission provided an outlet for Elizabeth to show her love for her family and concern for what would happen if they didn't succeed. The ear piercing provided a touching moment between mother and daughter.
The use of the maid, Viola, was a risky proposition, especially since neither Philip or Elizabeth could keep watch over her or her poisoned son the entire time. Philip's ability to change his appearance and demeanor helps him succeed as a spy. Whether he's interrogating the FBI employee, seducing an asset, or threatening Viola, he's believable and intense. He can be sincere and appear helpful in one moment and a killing machine the next.
After only one episode, both Elizabeth and Philip have been humanized in a way that even though they are both Soviet agents, I don't want to see any harm come to them. In their interactions with Viola and her son, I pulled for the agents to succeed for them, but more importantly, so nothing bad would happy to the maid or her family.
When Viola's brother attacked Philip, I was sure that the "breaking" noise was the American's neck and didn't doubt for a moment that the Soviet agent would kill if necessary for his mission. It was a relief that Philip didn't kill him. That intensity and conflicting emotions makes the show even more suspenseful.
Would Philip have killed Viola's son with the pillow if she didn't agree to replace the clock? Would Elizabeth have extended the countdown? In many ways, their own lives and that of their children was just as much at risk as Viola and her's even if an unspoken threat. Perhaps that's why it's not as difficult as it should be to support the Jennings' actions. 
In contrast, Agent Beeman went about uncovering a potential asset in the Soviet embassy. Just as the Jennings are willing to use manipulation and force to get what they need, Beeman did the same on the stereo shop owner. Nice touch taking the caviar and then sharing it with Philip. 
For the first time, we saw how the assets and intelligence gathering on both sides affect the other. The Jennings placed a bug in American Secretary of Defense's home office, then Beeman's new asset within the Embassy got wind of the good news. 
How long will it be before Beeman gets suspicious of the Jennings again? Being able to see both sides and how they react to the successes and failures of the other side is enough to overlook the plot point of the Beemans becoming neighbors of the Jennings.
Do you find yourself wanting Elizabeth and Philip to succeed even though their actions are against America? After another episode, how do you rate the show?
Carla Day is a staff writer for TV Fanatic. Follow her on Twitter and on Google+.