You've seen the posters. You've seen the ads. And now the wait is over: Smash Season 2 kicks off tonight with a two-hour premiere.
But has the Broadway-based series righted the wrongs of its first season? Will it no longer let its audience down? Below, we offer up six reasons why the show deserves a second chance...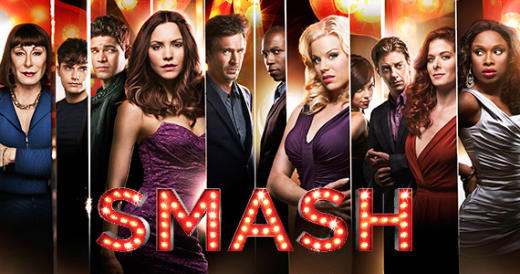 Not One, But Two Musicals: The new season starts with lackluster reviews for the Marilyn Monroe musical Bombshell. So as the creative team scrambles, another show, Hit List, will emerge and steal the former's spotlight.
"We have two musicals that you're seeing in several states of development," said new showrunner Joshua Safran, adding that a pair of productions will help the series "peel back the curtain on this world that most people haven't seen and show that process."
Out With The Old, In With The New: Gone are lackluster characters like Dev, Ellis and Julia's soon-to-be-ex husband. So, where did Smash look to find new blood? Broadway, of course! New cast members Jeremy Jordan (Jimmy), Andy Mientus (Kyle) and Krysta Rodriguez (Ana) all have strong roots on the Great White Way.
Jordan, fresh from a Tony nomination for Newsies, told us he knows what makes his complicated character tick: "He's a lot like me...except for the drugs and being an asshole. I can certainly be the sort of brooding part of Jimmy and I connect to his sort of introvertedness."
Watch for Jimmy to romance Katharine McPhee's now-single Karen, as well as butt heads with Derek (Jack Davenport) when the cranky director gets hold of Jimmy's Hit List and wants to make change.
Who's Stealing The Show? No surprise here: Jennifer Hudson effortlessly raises the bar for everyone else in her three episodes. Her Veronica Moore is a Broadway star set to teach Karen and Ivy (Megan Hilty) a thing or two about managing the spotlight and Hudson's musical numbers are, in a word, smashing!
Could we possibly see more of Hudson later in the season? "Absolutely," Leslie Odom Jr (Sam) told us. "She's a busy girl. We were lucky to get her when we did get her for as long as we got her and she had a blast. I know she'd come back if she was available to so I think absolutely there's a chance to see her again."
Also, watch for a Will and Grace reunion between Debra Messing and guest Sean Hayes as well as the legendary Liza Minnelli, Grey's Anatomy's Daniel Sunjata and more Bernadette Peters as Ivy's meddlesome mother.
Shaky Relationships: Ivy sleeping with Karen's fiancé will keep the two divas from being BFFs, but the relationship of Tom and Julia will also hit a rough patch, according to Tom himself, Christian Borle: "I think the last season was a lot about Tom supporting Julia through a lot of crazy crap. It's time for Tom to have something of his own [and] there are still more challenges on the horizon between Tom and Julia in terms of how they're balancing their partnership and their friendship."
Tom and his beau Sam will also face challenges when Sam leaves town (and their relationship) to be a part of the national tour of Book Of Mormon.
Focus! Focus! Focus! What the Smash Season 1 lacked, year two has down well. Smash, according to Borle, is "focused like a laser beam on Broadway... there's a lot of cop shows, lot of medical drama, lot of lawyer shows but there's only one show about Broadway." (He's telling the truth – the new episodes clearly are more grounded and the sporadic storytelling of the first season has been streamlined beautifully).
Cut, Print, Moving On! Like the musical number that opens tonight's episode, Executive Producer Craig Zaden said they're moving beyond what didn't work in the first season and are now making the show they always intended to:  "We're just lucky that NBC gave us another chance to come back and fix it. They could've said 'okay guys you tried so…' but they didn't. They said 'We believe in this so much. Fix it and let's put it on for a second season.'"
Will you be tuning in to the premiere? Visit TV Fanatic as soon as it concludes for a detailed recap and review!
Jim Halterman is the West Coast Editor of TV Fanatic and the owner of JimHalterman.com. Follow him on Twitter.