White Collar classed it up this week, as Neal and Peter tracked down a felon selling fake taxi medallions on "Empire City."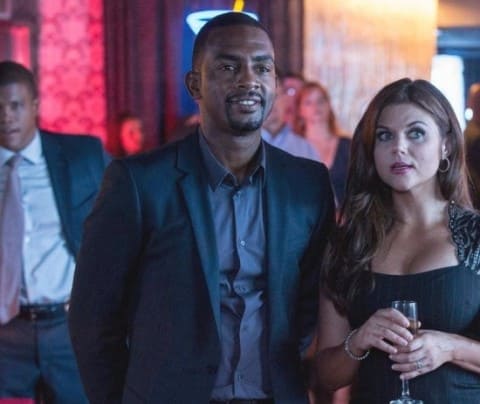 I've never seen Mozzie in a more appropriate work setting than in a cab. It has everything he needs: mobility, anonymity and gossip. Not to mention an outlet for a slew of witty one-liners. No wonder he was so adamant that the individual impersonating him, and his supplier, were promptly put to a stop.
I'm just grateful that the investigation led to an old jazz club. I may not be an expert, but I can appreciate the old-school class that embodies the jazz era - and no one fits more perfectly into it than Neal.
In all honesty, though, his classiness paled in comparison to June's. She's got a great voice and Diahann Carroll killed it. I'd certainly love to see her live in concert some place for real.
Lucky for viewers, all this throwback glamour didn't leave us without any developments on the key front. We finally know where the key leads, apparently to the Empire State Building. What could Ellen have possibly managed to hide there that Neal and company would reasonably have access to? That's a question we'll have to wait a little while to answer.
Other highlight's from this episode:
Mozzie's "Yellow girlfriend."
Diana's jazz knowledge.
Jones' penchant for cigars.
Diahann Carroll's rendition of "Harlem On My Mind."
I would be remiss to close this review without acknowledging Tim Dekay's brilliant work behind the camera. Though we've already seen his work once in the White Collar season 3 episode "Stealing Home," "Empire City" seemed a formidable follow-up for Dekay, and he certainly executed it well. Congratulations, Tim!
In other words, how many of you were celebrating the minute you found out that Hilarie Burton was going to be in the next episode! It's been such a long time since we've seen Sara. I miss her! Too bad her return coincides with Peter and Elizabeth being kidnapped.
We have to wait two weeks for another episode of White Collar, but that doesn't mean we have to watch that long to speculate what leads to Mr. and Mrs. Suit getting kidnapped. Any ideas, Collars?
C. Charles is a TV Fanatic Staff Writer. Follow her on Twitter.