It's official: Naomi is divorced from Max. In "Dude, Where's My Husband?" our resident energetic blonde found herself in a deep funk after the arrival of her divorce papers.
But leave it to Naomi to have her hair still look shiny and perfect when she's moping around in stain-covered sweatpants!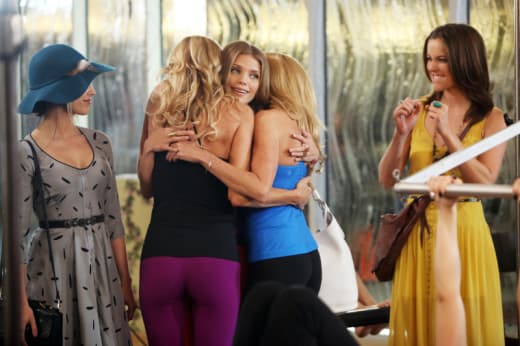 What do you do when your best friend is down in the dumps and needs to get her creative party juices flowing? Throw a girls night! Don't these kids know any other bar besides The Offshore? I mean, I know Navid gets free tacos, but he was the only one who wasn't even out. If you're trying to meet new people you have to mix it up a little!
One word to the wise, however, is never drink random tea left behind by your former hippie roommate. Adrianna felt "calm" and "oddly addicted." That was more of a red flag than Naomi not plucking her eyebrows. Obviously girlfriend was tripping on some special laced tea. My only question is how was she a clearheaded designated driver when she was tripping on the tea? There's just no way.
Reality was never the forte of 90210, so moving along girls night turned into a blur. Joined by two of my favorite drunken Real Housewives of Beverly Hills, Brandi and Camille, the girls night took an unexpected turn. Aside from some ugly hair and Annie getting locked in a bathroom, the night they forgot wasn't all the momentous. It turns out that Naomi married herself after Mark gave her some brotherly advice about re-learning to love yourself. I'm surprised Naomi didn't pull a Carrie Bradshaw and register for herself, I could totally see her milking that move.
Silver's night took far more of a precarious turn when she hooked up with Mark and broke her pact with Ade. Doesn't she remember the last time she crossed Ade and totally lost it, basically almost killing her? Ade claimed she wasn't mad, but she slammed that mirror down like Snow White's evil stepmother! Who's the fairest of them all?
Onto the boys, it was Dixon falling for the pregnant girl this season instead of Navid. Dixon's bond with Michaela is obviously growing. Navid, on the other hand, is about to be thrown out of school after Cronis Campbell revealed his plan to frame him for the cheating scandal. The only problem? Liam is the one who overheard Campbell's plan and Liam can't say anything.
You are literally sleeping with the enemy. | permalink
Of course he's sleeping with the enemy, he's Liam. He sleeps with everyone. Now he's undercover Liam and despite publicly beating up Navid to prove his point to the Cronis guys they are still stuck with no leads. 
What did you all think of the latest episode of 90210? What do you think will happen when we return for the final five? Hit the comments! 
This week's thing I will miss about 90210: Naomi's crazy over the top plans. Naomi is probably the most entertaining friend I could ever.