After singing the songs of Motown last night, the American Idol Top 8 will learn their fate. One of them will go home on the 450th episode of this epic singing competition.
Former Idol contestants Katherine McPhee and Colton Dixon perform, as will Idol's newest judge Keith Urban. Ready to roll, TV Fanatics?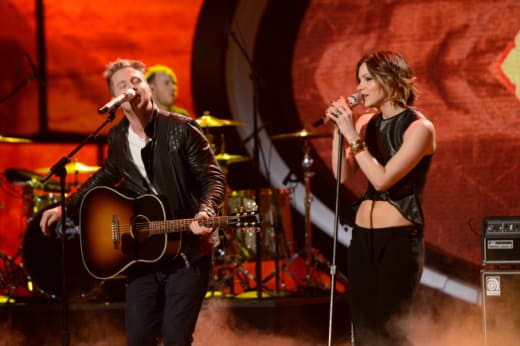 The opening group number pays tribute to Bob Seger. If I were Bob Seger, I'd want my tribute back. The tempo is all jacked up and this is not the song for funky vocal runs. That was a disaster like just about every other large group number ever on this show.
Moving on to Jimmy's thoughts.
Jimmy said Candice Glover gave the other contestants a lesson in how to perform. She's a natural. Jimmy agreed with Nicki's critique of Janelle and Kree's duet and said Janelle has to work on her ability to harmonize. Lazaro Arbos did much better than last week but still needs to listen to the melody. Janelle Arthur redeemed herself with her solo performance and Jimmy called it "transcendent."
Devin Velez did a very good job, but Jimmy thinks he came up short when compared to everyone else in the competition. The trio of Angie, Candice, and Amber was "really, really, really good" according to Jimmy. Burnell Taylor impressed Jimmy by understanding and delivering his lyrics. Angie Miller's "Shop Around" was the wrong song choice. Jimmy thinks she's off track. Amber Holcomb will be safe from the bottom 3 this week and called her performance "great." 
Jimmy named  Lazaro, Burnell, and Devin "Wrong Direction." Kree Harrison has a "unique gift in her top register" that may take her all the way to the Top 3. Jimmy believes the boys will be in the bottom 3 and predicts that Lazaro Arbos will be going home.
Colton Dixon performs his latest single "Love Has Come For Me." He's certainly just as comfortable on the stage as he ever was last year and seems to be living his dream. Good for him! 
One Republic and Idol alum Katherine McPhee have teamed up. Except Katherine's not actually on the stage yet? Oh. There she is. Sitting with the contestants and looking amazing. I think their in-ear audio is off because they don't sound so great together. That performance was weird.
We're currently 39 minutes into this episode and we have yet to hear a single result.
We do, however, have another performance. This time by Idol judge Keith Urban. I think the audio is screwy because the balance is off between vocals and accompaniment, at least as it's coming through my surround sound. And the camera angles are bizarre. Seriously. The production quality of Colton's performance was miles better than this. Keith had fun though, and I'm sure that was a treat for the contestants.
Finally, FINALLY, Kieran dims the lights. In no particular order, Kree Harrison, Candice Glover, Janelle Arthur, Angie Miller, and Amber Holcomb are all safe. As Jimmy predicted, Lazaro Arbos, Burnell Taylor, and Devin Velez are in the Bottom 3.
Ryan sends Burnell Taylor to safety meaning Devin Velez is in the bottom 2, a place with which he's familiar. Ryan also sends Lazaro Arbos to safety leaving Devin to sing for the save.
He chooses to reprise "It's Impossible" and Mariah bursts into tears. He gives an amazing potentially final performance and then after a deafening audience chants "Save! Save! Save!" Randy says it wasn't unanimous. They aren't saving him.
I'm shocked. Completely, totally shocked. They only have three more weeks to use the save and there's absolutely no way Devin deserved to go home before Lazaro. Wow. I need to go pick my jaw up off the floor.
What do you think, TV Fanatics? Should the judges have saved Devin Velez?
Miranda Wicker is a Staff Writer for TV Fanatic. Follow her on Twitter.