Army Wives Exclusive: Joseph Julian Soria on Hector's Growth, Jesse McCartney, and Fresh New Season

Sean McKenna at . Comments
Hector Cruz had a tumultuous Army Wives Season 6. It included a child on the way, a divorce and eventually getting deployed in the season finale, "Onward."
Except Joseph Julian Soria reassured me that things are looking up for the Private First Class.
I spoke with the actor who portrays Hector on the phone recently, and Soria talked about Hector's positive growth, working with Jesse McCartney and a season that's "going to be like no other that's been on before."
Read on for excerpts from our Q&A...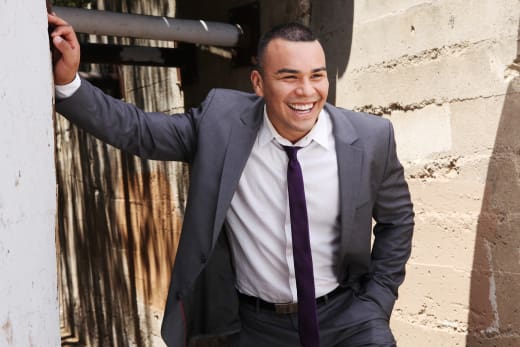 How did you come about the role of Hector for Army Wives?
I was in the gym working out and got an email last minute that was like a couple hours before the audition. I didn't have time to take a shower and didn't have any ink to print out my materials, so I just ran over there and went in. They called me back for the following morning and I booked the job.
The last time we've seen Hector was being deployed in the season finale with something happening to the plan. We know everything turned out fine, but was that written ambiguously in case the show didn't get picked up?
Yeah, they always try and end the show that way because they don't know, and they just go season by season. What they like to do is have two different scenarios and depending on the [renewal] decision or not, they decide which one they're going to put.
When you did find out about Army Wives Season 7, did you know immediately what was going to happen?
I knew before the season even ended, like if the show does come back, they were going to bring me back as a series regular. It just wasn't official until the show got picked back up.
When will we get to see Hector appear this season?
This Sunday Hector will be back!
Will most of your scenes take place overseas?
Yeah, we're in Afghanistan right now, dealing with what's going on there. This season is going to be like no other season that's been on before. The male characters are a lot more involved, a lot more story lines. It's going to be exciting. We have one episode, I won't say which one it is, but it's going to be a big one.
Can you tease what's in store for Hector?
He redeems himself. He starts to slowly but surely grow into the man that the army saw he could be. At the forefront of his mind, it's obviously to stay alive, but at the same time the chance of getting back with Gloria because he does love her, gives him some hope. Also, on his mind is his child and what's going to happen with that situation. Is he going to be in the child's life? It's all there. He's learning about his job and himself. The situation is complex mentally for him.
How will Gloria and Hector's relationship play out this season?
I don't want to give anything away for the fans. Again, he's holding onto some type of hope. He still wants to show her that maybe they can be friends and then grow to be something again, maybe a couple again.
Is there anything you want Hector to do or be a part of that he hasn't had the chance to do yet?
As an actor, I definitely wanted to see more redeemable qualities about Hector. Last season, you see a bit of his heart  and he just makes immature choices, but I wanted to see some growth. I even talked to the writers and they took some of my notes and I'm glad they're applying it to the season. Everything that I've wanted to see done is being done.
What's your favorite part about playing this character.
Watching him mature and watching him evolve. I love subtlety and these moments I get to play you can see from the outside, "Oh, I see him turning things around." It's not a quick process like one episode he's an asshole and then the next he's a hero.  It takes time which is reality.
Season 7 has had a lot of big changes, but what's surprised you about working this season compared to Army Wives Season 6?
I dig this season more so because there's quite honestly the youth. It's a new cast, a lot more guys I can hang out with, and because we're out in the field, it's very much the environment of being in the military. It feels real. The chemistry and the camaraderie we have fits perfectly for what we're doing.
With more guy focused stuff for Hector, who do you get to work with the most this season?
Jesse McCartney who plays Private Tim Truman. He's like my little brother on the show. I'm being put in a position where I'm being looked up to and I have to step up. He's like that little brother that you can't stand him, but you've gotta love him. So, we have that type of rapport and it plays really well.  In fact you see Hector with his damn temper all the time, has to deal with this kid, and learn to deal himself. He kinda grows on him.
Is there a lot of off screen bonding then?
Yeah, definitely. It was really important to me this season that when I knew we were getting new cast mates that I wanted to have that bond, to have that chemistry before we even started shooting. As soon as [McCartney] landed, me and Alyssa Diaz [who plays Gloria Cruz], we had a gathering at our house and had some of the cast over. I had called the hotel, I didn't have his number, and went down and got him. We were chatting on the way back and like I said, that's how important it was to me to get that chemistry. I think it really transfers on screen. We hang out all the time and he's a good friend.
The same thing goes with the other guys. We all have nicknames we've given each other and we go by those nicknames on set. It's all like it would be in real life.
Any fun stories on set?
I'll say this, Tim Truman has a thing with chickens, he has these pet chickens on the show, and there was a scene where something happened to the chickens. I came over and he was supposed to say something and I said something that wasn't in the script. It just sort of cracks things up. I mean, we'll walk around on set and he'll trip me. You know, it's just dumb  stuff you do with your buddies.
What can you tease about what's to come this season?
Like I said, a lot more of the men and what affects the women back home. You actually see it as opposed to just hear about it. I think you'll fall in love with Holly Truman [played by Elle McLemore]. She's adorable on and off screen. There's definitely gonna be some romantic drama and I guess I can go ahead and say it, a love triangle. There's a lot of good stuff that's gonna come up this season including some action and stuff that hasn't been done before.
Sean McKenna was a TV Fanatic Staff Writer. He retired in May of 2017. Follow him on Twitter.