Californication Review: Destructive Criticism

Chris O'Hara at .
After reading Becca's first attempt at a novel, Hank tried to delicately express his thoughts, but what came out was more like a parental Code Red.
The truth was not easy to hear, but Becca took it. When Hank's script was weighed and measured, it too was found wanting, yet the literary lion was not exactly prepared to handle the truth. "Everybody's a F. Critic" showed even the most celebrated of authors can pen a piece of garbage. What followed was an interesting look at how Hank dealt with such a bold faced rejection.  
At first I thought Karen had asked Charlie and the others to be critical of Hank's script, so as to give him a taste of his own medicine. I was happy to be wrong, though, as it was interesting to watch Hank struggle with the creative process and humbly ask for Becca's help at the end of the episode.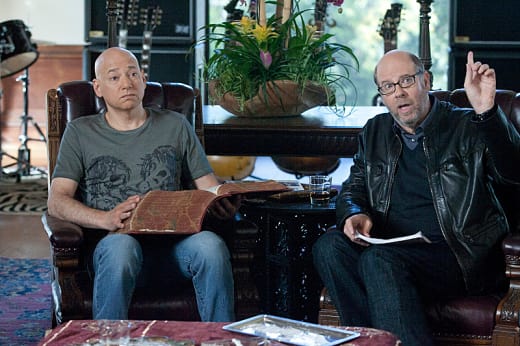 Hank's failure also highlighted that muses can come up empty from time to time as well. While Faith lost me a bit with her Joni Mitchell anecdote, she spoke the truth when she told Hank he should "dare to be an optimist" instead of such a cynic. She helped Hank get to a better place emotionally and it showed in his grill side chat with Becca at the end of the episode. Hopefully Becca will help Hank relate a little better to the younger generation.
Marcy, once again, had no interest in relating to the opposite sex thanks to crazy Ophelia.
Stu is a little quick to whip out the checkbook to solve his problems, but I do think he is the better option for Marcy at the moment. I was shocked when he informed Charlie that he was still wearing the crotch cage. I believe he would refuse an ice cream cone in Hell, if it meant getting his lover back. Charlie may still be in love with Marcy too, but he has yet to show any real effort to change his ways. Perhaps that comes from hanging out with Hank so much.
He did produce the biggest laugh of the night from me still, when he screamed out "Who pissed on my pants" after being stun-gunned by Ophelia. 
Karen hasn't sworn off men or Hank just yet, but she and Hank didn't get any closer to resolving their issues this week. Maybe as Hank works to make things better with Becca, Karen will cut him some slack. He did at least manage to stay away from Atticus's wife, which Karen had asked him to do.
The quarrelsome couple's progress will be on hold for awhile until Hank can give birth to some more literary magic. For now it looked like Hank is going to lean heavily on Faith's touch to avoid another creative miscarriage. What do you think?