Carrie Preston Teases Good Wife Return, The "Mating Ritual" of Elsbeth Tascioni
Jim Halterman at . Comments
On The Good Wife, one of the writers' weapons for balancing out the drama with some quirky comedy is the amazing Carrie Preston, who recurs on the series as eccentric, unique attorney Elsbeth Tascioni.
Tonight's episode finds Elsbeth tussling once again with Kyle MacLachlan's equally quirky attorney and, as the busy actress told TV Fanatic this week, expect more banter and flirty sparks between the two characters. And, of course, we had to talk True Blood, too!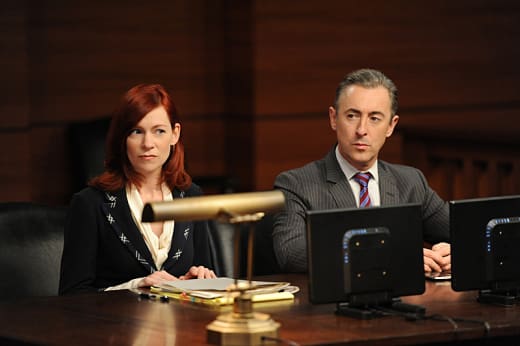 TV Fanatic: I'm so glad Elsbeth is back! What's her part in this Sunday's episode?
Carrie Preston: We're picking up where we left off with Josh Perotti, who's played Kyle MacLachlan, so you're going to see the two of us going head to head a little bit in the courtroom. That's quite fun and there's also a really fun encounter in a restaurant between our two characters, which we had a wonderful time shooting. [The episode] is very much focusing on what Elsbeth is doing to deal with the conundrum that Eli finds himself in.
TVF: Is there still that flirtatious banter with you and Kyle that we saw in "Red Team/Blue Team?"
CP: Yes! There is! It's very interesting because these two like-minded, very singular, unusual people have found their match in each other intellectually and so it's fun to see how they both deal with each other and when they're thrown off and who has the upper hand and who doesn't. They definitely push each other's buttons in a lot of fun ways.
TVF: Would you call their banter a form of foreplay? It seems like that to me!
CP: I think it is, yes. It is a very weird and strange sort of mating ritual of a different kind of animal because they are definitely not like the other kids around them.
TVF: I feel like every time Elsbeth is on the writers have shaped her more and more. Do you see them as writing more towards you?
CP: I do, I do, and I'm very flattered by that. It was already such a gift to be given the opportunity to play that role and then to see how we've all blossomed from it. The alchemy between the writing and the acting has created quite a fiery and interesting character and it always starts on the page so I definitely feel like I am in great hands with all those writers.
TVF: Who would you like to see Elsbeth mix it up with? Maybe someone she hasn't done much with yet?
CP: You know, I haven't had that much to do with Cary so it would be fun to see what Elsbeth would do with his…he's always got this little smirk on his face like he's hiding something or just ate the canary so it would be interesting to see how Elsbeth would try to crack that open and see what's inside.
TVF: Elsbeth has been recurring for the past few seasons, but do you think if she was on every episode that the writers might have to reign her in a little bit?
CP: That's an interesting question because of course I would love to be on the show full time because it's such a wonderful show and I'm such a big fan of it…that said, Elsbeth is definitely designed by the writers to pop in and provide a burst of a firecracker or come in and spice up the proceedings. I value in that, as well, and I would think if they did bring her on full time it would be interesting to see how they would temper that energy. I've done a total of nine episodes over four seasons so it's been fun to get to see Elsbeth in different situations and to see how she reacts to all the different characters on the show and then what is thrown her way.
This season alone I never would've thought I would get to figure out what Elsbeth would do in a jail so I did that. And now what is Elsbeth like when she's attracted to someone? In a way that any great character blossoms over a series, I think that the writers are smart enough to be able to sustain that and still serve the show no matter how many times they put a character on the episodes.
TVF: And you're already back working on True Blood, right?
CP: We are well into shooting. I think the fourth episode just started yesterday. We're well into it and it's True Blood so it's bigger than ever and I think the fans are going to be pleased.
TVF: Is there anything they haven't done to Arlene yet? She has been through the wringer!
CP: I guess they haven't had any of her reactions with the werewolves. She has no idea that those things exist in the world but I would love to see her see Sam shift into a dog or something. That would freak her out so bad!
The Good Wife airs Sundays at 9/8c on CBS. True Blood will be back on HBO this summer.
Jim Halterman is the West Coast Editor of TV Fanatic and the owner of JimHalterman.com. Follow him on Twitter.