The overall theme of Girls centers on the trials and tribulations that come with growing up in the boomerang generation. 
"On All Fours" featured perhaps some of the strongest examples of just how difficult it can be for these kids to make personal changes.
Whether it's Hannah's stress pushing her to regress to OCD behavior, Shoshanna's inability to face the truth or Adam's huge trail of self-destruction, the latest episode of Girls really showed us the meaning of "one step forward, two steps back."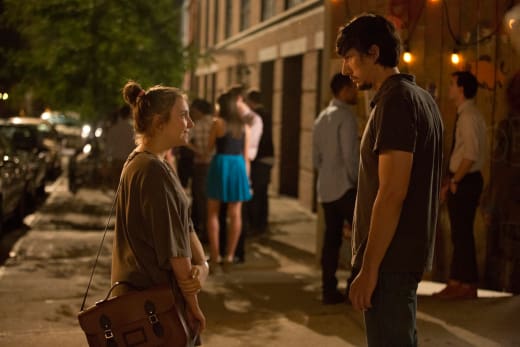 There was a brief exchange in the opening scene with Adam and Natalia (Shiri Appleby) that really said a lot to me. 
Adam: I like how clear you are with me.
Natalia: What other way is there to be? | permalink
It's an odd breath of fresh air for Adam to have someone be direct and normal with him. In fact, it's an oddity among most of my generation. With all the gray areas of "are we really together" and "do you really like me" instances, it would be nice if someone could just spell things out for a change. For Adam this is a new and healthy experience that unfortunately unraveled after a two minute run-in with his crazy ex.
Obviously the most overt instance of a relapse on this week's episode was Adam going back to the bottle and then completely freaking out his new girlfriend by degrading her in the bedroom. Natalia thought Adam was this sweet attentive guy, but suddenly he had her on all fours crawling to his bed and then ejaculating on her chest without permission. Sorry, but there is just no pretty way of writing that!
So why did Adam do it? He had a healthy seeming relationship with a nice girl and he threw it all away because seeing Hannah freaked him out that much. Since I'm not sure exactly where I stand on the whole Adam/Hannah issue I will defer to my best friend and her very strong opinions on Girls. She thinks Adam and Hannah are "dementedly perfect for each other." They are the "Carrie and Big" of this show. Any longtime fan of Sex and the City knows just how destructive Carrie and Big were, even if they ended up together.
So is that the lesson here? Something that may seem healthy and good from the outside may still not be the right choice for us? Maybe we all need to find our own little soul mate freak? Hannah has definitely never hid her neuroses from Adam. She came right out and told him about the Q-Tip, even if she failed to mention what led to it. He can tell she's not doing too well. Sorry, Hannah, but nobody, especially not your editor, is buying that your book writing is going great.
Meanwhile, you have Marnie's own version of her journey. I think it's fine she's pursuing singing, but she could've gone to an open mic night or some other appropriate venue. It's typical self-focused Marnie behavior to perform a rousingly awkward version of Kanye West's "Stronger" in the middle of her ex-boyfriend's office party. Despite that humiliating instance and Charlie's admonishing speech they ended up having pretty steamy sex on top of his desk. I have to agree with Shosh on this one: Charlie has really never looked hotter!
By the way Shosh, you held a doorman's hand? That's just one of the worst lies I've ever heard; not just because the audience saw you hook up with him, but it is a terrible cover story. Held his hand? Really?!? I think it's time to face Ray and what is really bothering her. 
All the self-destructive behavior in the latest episode of Girls should make for an incredibly interesting finale. What did you think of the latest installment? Hit the comments!