After the thrilling events of last week's "Decoy," Justified took its foot off the pedal just a bit to showcase the more subtle brilliance of this show in what has turned out to be another fantastic season.
Six weeks ago I posited that Colton's entire arc might have been out of place.
"Peace of Mind," and the past few episodes overall, proved me wrong. 
The way that his path kept crossing with Deputy Marshal Tim Gutterson's not only gave Colt a rightful place in this season's story, but it helped evolve Tim into something more than a rarely-there sidekick.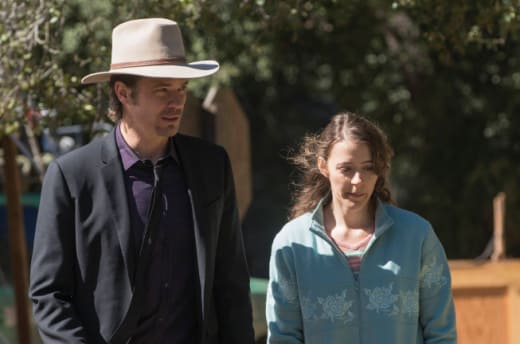 Sure there were the comedic moments - like last week's conversation about Lt. Dan and Gerard Depardieu - but when Tim came into that former snake-filled church, their interactions became some of the most intense and complex that you will see on television.
They have things in common, and that's why their dynamic has been so fun to watch. But at the end of the day, they are on completely opposite sides of life, and as you would imagine, the good guys won once again.
It was Tim and Colt's multiple meetings, and the fact that the latter did such a horrific thing to the former's friend, which made their final showdown so memorable. Tim Gutterson was ice cold in that moment, and in the second that Colt said he quit smoking, he also quit living.
If there has been one continuous gripe by critics about Justified, it has been the show's inability to create meaningful and substantial arcs for Tim and Rachel. This season finally proved that wrong in the way of Marshal Gutterson, and in doing so, proved me wrong in my theory that Colt was a waste of an introduction.
Before Tim made it to the church to save Ellen May from Colt's bullet, it was Ava who was about to take down the unassuming prostitute.
Prior to this week's episode, Matt Richenthal spoke to star Joelle Carter, who told him that now the question will be "whether Ava will continue her steps toward the dark side or listen to her moral compass."
Watching the character struggle with that has been a joy to watch this season, and Carter has been great. Of course all of our guesses would have been that Ava wasn't going to be able to go through with it, but that didn't make it any less satisfying when she put the gun down and decided not to murder Ellen May.
What was even better though, was the complexity of Boyd Crowder's reaction. First, he hangs up, calls Colt and tells him to kill Ellen May. Finish the job big guy. On the other hand, he tells his fiancé that he respects her on every level.
He told Ava he wanted her to do something awful, but when she couldn't do it, he wasn't upset.  Does he want her to be as bad as he is?  Or like he said, does he respect her for not being like him?  Does he dislike himself for the things he does?  Or does Boyd just understand that some necessary evils are meant for some to undertake, but not others? 
Boyd Crowder is a character of multiple layers, and Walton Goggins continues to showcase them as well as any actor on television.
On top of all that seriousness, "Peace of Mind" also gave us plenty of humorous moments, like Raylan and Art talking about Julia Roberts, as well as Raylan and Limehouse talking about pulled pork.
There is only one episode left. What did you think of "Peace of Mind?" What were your favorite moments? And what are your predictions for the finale? How will Justified Season 4 end? What is next for Raylan, Boyd, and the rest of our favorite Bluegrass Staters?
Dan Forcella is a TV Fanatic Staff Writer. Follow him on Twitter.