We learned the identity of Drew Thompson this week, as Justified Season 4 aired an especially important episode.
In this edition of the TV Fanatic Round Table, staff members Nick McHatton, Dan Forcella, Christine Orlando and Jim Garner break down this major development and other happenings from "The Hatchet Tour."
----------------------------------------
What was your favorite scene from the episode?
Nick: Raylan getting the children, aka Constable Bob's shootout, in order and calming them down. Art and Tim's exchange is a close second.
Dan: The moment that Raylan came to the realization that Shelby was Drew, not the actual reveal, but just before.  The wheels in Raylan's head were turning, and the excitement on my face was growing as I got closer and closer to being correct in a prediction. There is a first time for everything!
Christine: There were so many good lines and moments in this episode but I really enjoyed Boyd and Ava walking through the house that her mother cleaned when she was a child and them telling the snooty real estate agent off. You shouldn't insult someone and expect to make a commission off of them. I'm really hoping that Boyd and Ava eventually find their happy ending but knowing this show I expect my hopes to be brutally crushed at any moment.
Jim: I loved Raylan walking out to the car and Hunter lounging in the back. It was such a great way to confirm Raylan's realization.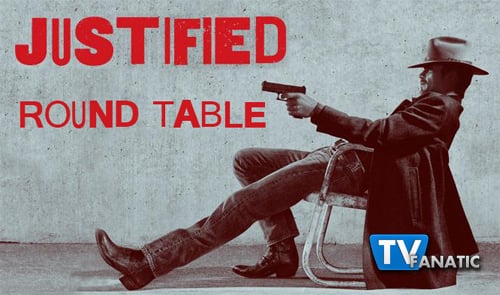 Were you surprised that Shelby turned out to be Drew?
Nick: Not really, since Dan's reasoning for him being Drew has been solid, but I still can't find myself caring much for this story nevertheless.
Dan: Yes, because I'm always wrong.
Christine: No. It seemed obvious after last week's episode. Besides, Dan thought so too and Dan knows all.
Jim: Not at all, the last episode or two Shelby's been taking a bigger interest in Drew than he should have been.
Theorize on why everyone was so loyal to Drew.
Nick: If the exchange with Hunter is any indication, Drew/Shelby inspires more than intimidation and threats. Shelby is good at finding lost or wandering people, and he knows just what to say to boost their spirits right into his playing hands.
Dan: Yeah, it's more about being good than being scary. These people are willing to die for him because of the great things he's done for them over a lifetime.  Either that, or he's a crazy cult leader, and they're all his followers.
Christine: What's up with that? I mean, I like Shelby but to have that many people loyal enough to kill and die to keep your secret, even an ex-wife you haven't seen in decades...damn. I'm impressed.
Jim: I agree with Nick and Dan, he inspired the people that kept his secret more than scared them. I just don't understand how he could inspire someone like Arlo.
With Arlo and Wynona gone, should they introduce new family or love interest for Raylan?
Nick: Absolutely, I like when Raylan is pursuing something other than cases or criminals.
Dan: Not love. There has been too much of that already for Ray. He's been through enough.  Some unseen family member would be a nice touch though.
Christine: Yes. Raylan needs someone to connect with but I'm with Dan. Not a love interest. Raylan can't seem to get that one right and I think he needs to take a break for a while.
Jim: I'm with Nick, I think he needs some "long lost family" and maybe a less-than-crazy love interest.
Should Tim have let Boyd and Colton leave knowing he was armed and was choking Cassie?
Nick: Tim told Cassie he would only take Colt down when he wasn't high, so Tim isn't out of the woods with letting Colt go yet.
Dan: Yes. Don't mess with Boyd Crowder!
Christine: I remember thinking that I would have shot Colton the minute he took that gun out of his waistband. I wouldn't have even given him the chance to lift the weapon, then Boyd just would have been there to help clean up the mess.
Jim: I forgot about that line, Nick. I hope it comes to pass, I'm not sure I would have let him walk away.