I think what really makes Legit a clever show is not only having three main funny characters, but involving the trio in sort of everyday topics or situations turned upside down.
On some level, "Hoarders" continued the trend of focusing on the extreme pack-rat nature of Janice, Billy and Steve's mom.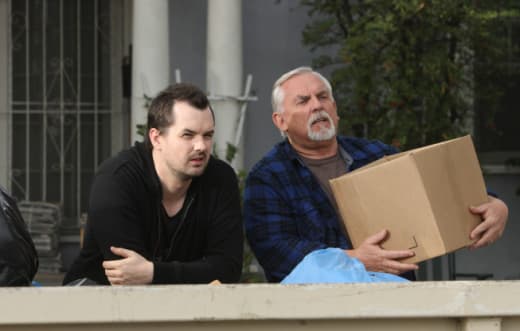 The core trio each had their own specific part to play in the eventual intervention and dissection of the lunacy that Janice had created, while inadvertently revealing a bit of unknown backstory on the family.
I'm still having a hard time getting on board with Janice as a character, mostly because she seems so pissed off all the time to the point of feeling like her outbursts and antics are more cartoon than exaggerated reality.
Yet, her reaction to every item being thrown away was hilarious, even to the point of her grabbing bags herself and pulling them out of the trash.
Really, the whole hoarding stemmed from an emotional stigma connected to Billy getting muscular dystrophy and animosity towards the lost sister that Jim never knew about.
And, it turns out, Janice and her husband happened to be involved in a few key parties back in the day.
John Ratzenberger (of Cheers fame and even the voice of Hamm in the Toy Story films) lent his talents to playing Billy and Steve's enabling father, Walter. A great addition to the cast, adding his own sense of charm in remaining positive about living in the backyard instead of in the house.
Even with Jim leading the crusade, it was humorous watching Walter trying to avoid any confrontation, even if he too recognized the mess that Janice had created.
Similarly, the difference in opinion about the whole situation for Billy and Steve was rather great. Steve took to it all like it was no big deal, and in effect, having a little bit of his own packrat mentality shine through. Billy, on the other hand, was disgusted, really wishing his mom would just clean up her act.
The whole hoarding itself was wonderfully and expertly represented, as I do happen to know a few hoarders and that is exactly what it looks like, in addition to the way the people act about getting rid of anything. Sometimes I have no idea how people can live like that.
I guess a little forced intervention can be a good thing, especially with Jim in charge. After all, how many stacks of 20-year old newspapers, Tiny Tim crutches or stuffed animals do you really need?
While the episode did play off and find the humor in the whole extreme hoarding, there seemed to be a lot more serious discussion than say last week's goofy actor and weight focused "Health." Although it was pretty funny finding out about Steve got into college but never knew, and Rodney bought all of the photos of Steve dressed like a girl.
I do wonder if Janice will be able to keep her place clean or if Steve will start hoarding in Jim's place.
If anything, at least we got the core trio all together, while learning a bit more about the wild parents of Billy and Steve. And who knows, maybe Jim will get to meet and potentially try and hit on that sister in the future?
Sean McKenna was a TV Fanatic Staff Writer. He retired in May of 2017. Follow him on Twitter.