We didn't need "100 Clues" to tell us that Psych is a rock star of a USA Network original. But we did need this episode to give us one more reason to love this series.
In true Psych fashion, fans were treated to both a tribute to Clue AND a tribute to all the things that make an episode so memorable: murder, mystery and guest stars.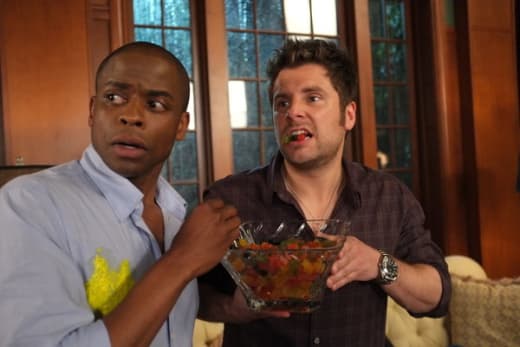 I suppose the sillyness began with Shawn and Gus in those ridiculous rock star costumes. If there is one look that wasn't mean for either of these men, it was tight pants, eyeliner and those claws Shawn had on his hands.
It has been a while since we've seen the pair don costumes, and now that I've witnessed these, I'm confident I can go several more episodes without seeing them in another one. It will take me long enough to expel the current one from my brain!
We've been waiting a long time for this Clue episode, originally promised us in season five. And having seen the original just a few short weeks ago for the first time, I can confidently proclaim that Psych captured and reflected its silliest and most iconic features quite well.
As far as the story goes, the mystery itself was a little hard to follow, if only because it got overshadowed by all of the interactions between characters, which we came to understand all had connections to Billy Lips by virtue of their testimony having sent him to jail. What a clever way to have them all brought together.
By the way, did anyone catch that the Melinda Lane case was their third case after opening Psych? Oh, the confusion a five-year flashback can cause! It made me laugh because Shawn and Gus look much older now than they did when the series began and the relationship between Shawn and Henry seemed so chill and sans angst I almost forgot it was supposed to be 2007!
Carlton didn't even seem to be the least bit off-put by their ridiculous costumes either, nor did he have any snarky insults to hurl at them. While I did appreciate a callback to the comb-over, it was really hard to see them as they were five years back. I think growth is growth and there's no reason to go back!
I have to say, that much like last week's installment, there isn't as much to analyze as there is to remember and re-live. From Curt Smith getting shot and half-eaten by Billy's pet panther Emma to the trading card opening credits, here are the other highlights that made this episode one to remember:
Getting to vote for our favorite ending. To each coast their own!
East Coast, you voted the Butler. It fell a little flat for my taste, but you chose the first of two possible endings!
Finding out Gus graduated from Pamona College in 1998. FYI that means Gus and Shawn actually graduated in 1994, not 1995. So unless Gus got out in three years, Gus should have been class of '99 to preserve continuity. Sorry, hardcore Psych-O's notice this stuff!
Leslie's stuttering problem.
The fact that Clizby and Leslie had an affair back in the day.
What will now be deemed Shawn and Gus' "chocolate/party dance" exclusively created and performed for this episode.
The toupee room. I didn't know Gus had a granddaddy whose legacy has amounted to a life-long trauma.
Shawn and Gus trying to get Clithsby to reveal who their host was.
Gus never finding the chocolate room.
Martin Kahn, a.k.a "Harvard." No better use of the stereotypical Harvard graduate has ever been applied anywhere else.
Screaming doorbell. I would hate it at my house, but it definitely fit at that mansion.
Shawn inviting Juliet, promising to invite no one else, then promptly inviting Gus to go less than 10 seconds later.
Shawn running around with a saxophone in his hand as a weapon.
Gus wielding that peppermint striped jousting stick.
Shawn and Gus arguing over who ate the licorice pastels and trying to sell each other out.
Simply stated: Psych you're a rock star. We love you. Keep doing what you do. Congratulations on 100 episodes. May you see 100 more!
C. Charles is a TV Fanatic Staff Writer. Follow her on Twitter.