Behold! The history of the red sharpie! When she wasn't playing with fire, Little Orphan Amanda was hiding under the covers using a red marker to cross out pictures of her father's face. Just one of the many life skills she picked up in Ms. Hayward's house, right?
Revenge Season 2 has been all over the place in terms of storytelling and pace, but "Victory" channeled the feeling of Revenge Season 1 as Emily teamed up with Eli to come up with and carry out a plan to take down their former foster mother.  
For Emily, victory was most definitely sweet.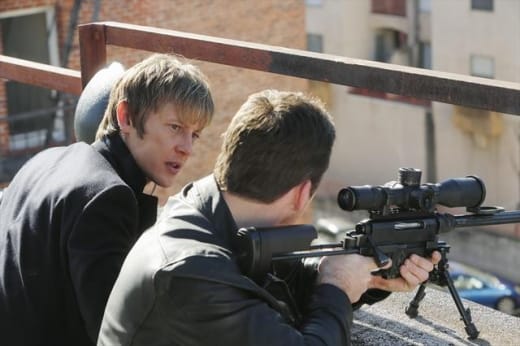 I try not to think too much about the timeline of Emily's life when episodes flash back to her childhood or adolescence because things tend to get a little weird. However, part of me has appreciated these episodes with Eli and the flashbacks to her time at Ms. Hayward's house because they've forced Emily to confront both her past and her present. Who would she be if certain events had never taken place?
Would she be a different person if she had been adopted? Would she still be on this vendetta against the Graysons if her foster home hadn't burned to the ground? Would her father's letters have changed her opinion of him before it was too late?
While I like Emily resolute and prepared to take action, questions like these are bits and pieces of emotional evidence to prove that she's human like the rest of us. She wishes her life had turned out differently and voiced that tonight, which was a nice moment for her.
However, even though she wishes her life were different, she's still tied to the life she did live and can't hurt Eli. He was a constant in her life until the point at which she was sent to juvie for burning down their house with a fire that, as it turns out, he started.
Watching Emily and Eli set up and then take down Ms. Hayward was pretty great, particularly because the woman was so vile and disgusting. When I thought that Eli was actually double-crossing Emily and working with Ms. Hayward, I was momentarily stunned that he could choose the side of the woman who was so brutal and cruel to him and his foster siblings. Thankfully, that was a ruse and he was Team Emily the whole time.
Despite learning that she went to juvie because of Eli, Emily walked away from this red sharpie attack with the knowledge that she can trust him. He's a friend. 
Finally, another person who knows her true identity! Which brings us to Mason Treadwell. 
Emily's foster mother sold the letters her father had written to her to Mason Treadwell. However, they were reduced to ashes when Emily burned Mason's house down.
Irony, party of one.
Thankfully, Mason kept a back-up of the letters details in his brain and spilled the secret that Ms. Hayward wasn't the only mother deserving of Emily's attention. Once upon a time, there was a teen mother who had a son and put him in a place much like the home in which Emily spent her adolescence.
Victoria Grayson has another son.
I suppose Victoria had this skeleton hanging in her closet right next to last season's Versace. Hopefully she had it dry cleaned first?
And speaking of our own Mommy Dearest, Victoria set Daniel up by sending a photograph of his lunch with Emily and two bullets to the office in order to play on his alcohol-fueled and paranoid sensibilities. He thinks it's the Initiative tracking his every move and wonders whom he can trust, if anyone. It was kind of evil and just so perfectly Victoria.
Finally, the Initiative.
Ugh. Padma and Nolan broke my heart. And I'm still not sure I want to trust her even though she seems to have been legitimately taken hostage by Trask and his men in black.
Is The Falcon really that good that he knew that Nolan and Aiden were there and had a tracking device planted on Padma? Who is this person?
This mystery person who continues to stump Nolan and helped to steal away his lady love had better watch out. Nolan will find The Falcon's trail and then he and Emily will be on that trail like Jack is on Conrad's trail of veiled instructions to assassinate threats to his campaign.
Finally, Declan did something useful! Three cheers for Declan!
What did you think of "Victory"? Who wins for mother of the year: Ms. Hayward or Victoria Grayson? Is Padma still alive? Be sure to check out the Revenge quotes page and watch for the Round Table, coming soon. Until then, let's chat in the comments!
Miranda Wicker is a Staff Writer for TV Fanatic. Follow her on Twitter.