Sunday's episode of Revenge reveal a new skeleton in Victoria's closet, while Jack took his own quest for vengeance to a new level and the red Sharpie returned unexpectedly.
Below, TV Fanatic's Miranda Wicker, Steve Marsi, Matt Richenthal and Christine Orlando break down "Victory" and look ahead to next week's episode in our Round Table Q&A.
Weigh in with your own responses to these Revenge topics below!
-------------------------------------------
1. What was your favorite quote or scene from the episode?
Matt: Any scene involving Conrad and Ashley. The guy is a billionaire running for New York Governor and his campaign manager only political experience is that she once planned his parties.
Miranda: Nolan and Aiden on the rooftop at the rendezvous. Their exchange about mouth breathing and assassins was funny. Favorite scene goes to Nolan and Ems after Padma was kidnapped.
Christine: Emily telling Nolan, "I give you my word. I will help you save her." It's about time Emily went all in for Nolan. He deserves her loyalty after all he's done and this time she gave it without being asked.
Steve: As a political junkie I am obliged to go with Conrad's Joe the Plumber reference. I also enjoyed Eli playing his foster mom by pretending to play the Graysons. Are he and Ems related?!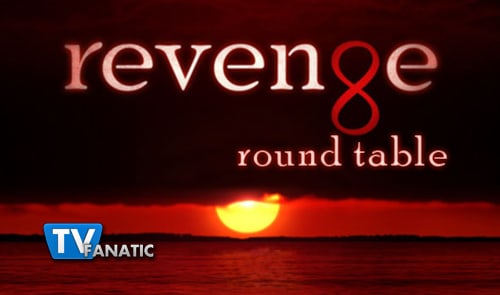 2. How does the demise of Ms. Hayward rank from 1-10 on the Emily Sharpie Takedown Index (ESTI)?
Matt: Negative 12. Why the press conference? Why the hassle of going through the Graysons? Couldn't Eli have simply gathered together the abused foster kids and gone to the police a long time ago?
Miranda: I'll give it a 7. It was a pretty direct destruction and lacked her usual "flair for the dramatic," but it gave us the red sharpie so for that it was great.
Christine: Maybe a 5. I agree it was great to see the Red Sharpie make an appearance but there was too little build up of Ms. Hayward's character to make it truly satisfying.
Steve: 6. @ Matt ... have you ever seen Revenge? It's all about the melodrama and theatrics. What's an Ems takedown if it isn't dubiously timed to cause unnecessary public embarrassment?
3. Should Aiden have offed Trask when he had the shot? Or was Nolan right to reel him in?
Matt: Yes. Shoot first. Ask questions about saving the life of your friend's lover's father later. Come on, Aiden. What would Takeda say?!?
Miranda: Yes? Just so we can be done with Trask? Really though, no. Offing Trask wouldn't stop the Initiative. They'd just raise up another soldier in his place.
Christine: Nolan was right. As much as I want to see Trask go, offing him would have only showed their hand. Of course with Padma now missing he might see that differently.
Steve: With two lives on the line, one can understand Nolan's trepidation, but how do you not take out Trask? Maybe I just want to see the Initiative plot shaken up, but come on, A.
4. Have we seen the last of Eli?
Matt: Yes. You might say the book of Eli is closed.
Miranda: Probably not but definitely for a little while. I kind of like him and think he could be an interesting ally.
Christine: I agree that I ended up liking Eli more than I thought I would. I'm just not sure there's a reason for him to return.
Steve: I hope not, given that his character exceeded expectations. With proper guidance, that guy could be an effective supporting player on Team Emily in future tasks.
5. Are you liking the new Jack Porter, duplicitous campaign mole and part-time P.I.?
Matt: It's better than the old Jack Porter: unsmiling, stiff bar owner and full-time bore.
Miranda: Can we take a minute to give some high fives to Declan for being useful and finding Kenny Ryan? While I like that Jack has some sort of purpose right now, I feel like he lacks the chops necessary to pull off such a huge takedown.
Christine: Yes, it's the first time I've really felt Jack Porter had any backbone. Apparently Amanda rubbed off on him a bit (that sounded dirtier than I meant it too). But I agree with Miranda. I doubt he's got the chops to follow through on his revenge.
Steve: Definitely a step in the right direction for the maligned, blue collar Montaukite. @ Miranda ... agreed on Dec, who knew he had it in him?! @ Christine ... this is a PG-13 Round Table.
6. Victoria's other son: Intriguing new twist, or enough with the new twists?
Matt: It was clearly added at the last second as a course correction for Revenge Season 2, in order to bring the focus back to the feud between Emily and Victoria. But anything is better than The Initiative, so I won't complain.
Miranda: The answer to this question hinges on who Victoria's son is and what Emily will do with him. At this point it could go either way.
Christine: That all depends on who Victoria's son turns out to be.
Steve: I'm intrigued. It's about time Emily had some new leverage (and renewed focus) on Vicki.
7. Create a nickname for the awesome Emily-Aiden-Nolan alliance.
Matt: Beauty and the Beat-By-The-Initiative-Niks.
Miranda: Team Takedown.
Christine: Revengers.
Steve: #NAIDILY
Steve Marsi is the Managing Editor of TV Fanatic. Follow him on Google+ or email him here.