Following a lengthy hiatus, Nashville returns tonight with new episodes - and the question on everyone's mind is what is going to happen after Gunnar and Scarlett finally locked lips and ripped each other's clothes off last month?
Will they finally be the romantic duo we've been longing for? Or will life get in the way, as it so often does? Or will Gunnar's guilt over his brother's death steer him away from love and blow his future in the music business?
Sam Palladio, the British actor/singer who plays Gunnar, jumped on the phone with us the other day to give us a peek into what's to come, while also previewing how Chris Carmack will fold into the show and help Gunnar come out of his black hole...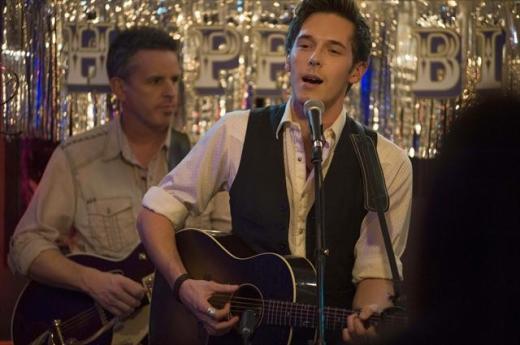 TV Fanatic: Where are we going to find Gunnar in this next episode?
Sam Palladio: It's the morning after that night and Gunnar finds himself just a bit numb, to be honest. The whole situation really affects everything he does, be that his relationship with Scarlett. You think that finally they've made this commitment, they've made this next step, the passion and the friction and the frustration has finally come to a head. If you think you can wake up the next morning from that and be like, 'Oh, fantastic' but mostly he wakes up and he's like, 'Okay, what's just happened here?'
The next few episodes he's trying to understand the specifics of the situation and how Jason died. So, he's trying to take matters into his own hands. He feels that the police aren't doing enough and aren't giving him the right answers so he goes on a bit as a vigilante and tries to solve the crime himself but, actually, he shouldn't be getting himself in that situation. There's also the advice of Scarlett and others, trying to hold him back and make sure he doesn't get himself into a similar situation.
Meanwhile, physically he becomes kind of cold, as well, just creatively and not being in the right headspace to deal with these offers from Rayna. The two of them have just gotten this invitation to come and sing for Rayna and record deals and music contracts and all these other exciting things that fall at completely the wrong time. So, he makes a couple of choices that don't stand him in the best stead or Scarlett in the best stead musically…music seems to be the last thing on his mind, as you can imagine. That's really his arc.
TVF: Since he's pushing Scarlett and others away, is there someone that Gunnar leans on or eventually leans on instead?
SP: He actually does. We get, I think in episode 16, this new character played by Chris Carmack who is introduced. His character is called Will and he moves in above Scarlett and Gunnar's apartment and becomes the new confidant, actually. Gunnar finds himself with a dude friend for a change and he really is the catalyst for kind of picking Gunnar up and then trying to shake him out of this guilt that he feels for losing his brother and the whole mess there. Chris, who plays Will, is fantastic and he's a great actor/singer. So that's really a cool character to take Gunnar to a new place and give him some confidence and try and get him back on track.
TVF: You were talking about how Gunnar goes off and kind of is a vigilante on his own. Does that mean there is more to his brother's death? Maybe a mystery?
SP: At the moment I think it may develop a little bit farther down the line. But we're on episode 19 at the moment. He goes off to try to answer some questions but it's still very much up in the air and very much left open. So, I think it's the writers' way of giving a key to another doorway farther down the line, which I'd like to know myself. I'd like to ask the writers and say, 'What did happen to Jason?'
TVF: Is there any hope for Gunnar and Scarlett to be a couple or is this going to be a big roadblock for them?
SP: They're certainly taken to another stage of this relationship. It's been a slow burn for such a long time, it's not an easy start to this new sort of relationship but it certainly been developed from the friends that have a massive crush on each other and find each other inspiring and creative to a new place. It's not an easy ride, it's not going to be a clear they're in love and they're going to do their thing but it's going to make some intense viewing. It's not clear sailing yet but it's certainly a developing story.
TVF: They like it to be complicated on Nashville. I've noticed that.
SP: Exactly. There's no clear relationship on Nashville.
TVF: Any songs coming up that you're excited for fans to see in these next episodes? You've had some really great ones this season but anything coming up?
SP: Yeah. I guess a few more episodes down the line, Will sort of shakes Gunnar up and tries to break this depression that he's pretty much in and gets him writing some new music and doing things that may be moving away musically what's come before. There's something coming that that I think might get released as a single…I can't really tell you much more about it but it's definitely taking Gunnar into a brand new sound that you haven't heard before. But I think it's awesome. It's a little bit edgier, more soulful rock sound.
TVF: How important do you think it is the fact that all of you are in Nashville doing a show about Nashville as opposed to a soundstage in Los Angeles?
SP: Absolutely. For me, I think from the actors' perspective we can really go into town, go and see this fantastic music every single evening, really see these characters in real life. There are Gunnars in every bar in town, the guys working the PA system and actually come and get up and play a couple songs and they're mind blowing…I guess just being here you kind of absorb that. For me, it's absorbing the accent. I've got a good ear for it but being here is really helpful. Because there's a lot of crew and writers from LA. Everybody lives there so of course the accent is different, so I find myself telling myself to stop listening to people talking on set to stop myself from doing a kind of 'California Dude Gunnar.' I need to have a more 'Southern Gunnar' accent-wise.
Jim Halterman is the West Coast Editor of TV Fanatic and the owner of JimHalterman.com. Follow him on Twitter.