With the Suits Season 2 finale airing last week, it's time to assess the past 16 episodes of this USA Network smash.
What worked? What failed? What do we hope to see next year? Read on for our latest TV Fanatic Report Card and then grade the season for yourself...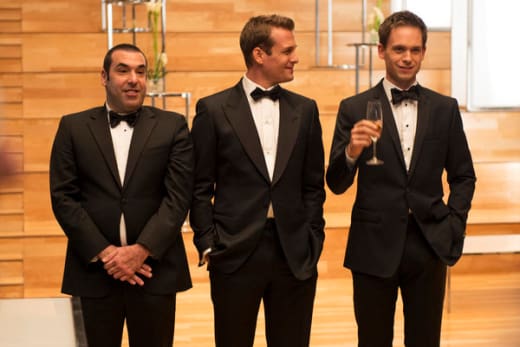 Best Episode: I still maintain that "Break Point" and "Sucker Punch" were best episodes front the front half of the season, but "He's Back" was a pretty definitive episode in the back half. Both Donna and Louis got to take a shot at Hardman in retaliation and the vengeance was sweet.
Best Rivalry: Katrina and Louis in "Zane vs. Zane." I have to give Katrina credit, she really had Louis running for the hills. But leave it to him to exact a decisive comeback in the form of his face photoshopped on to famous Presidents. Well played, sir, well played.
Relationship in Need of Most Immediate Repair: The one between Jessica and Harvey. They took a real hit throughout this entire season. From the minute Hardman reappeared, they were fighting a battle that challenged the strength of their relationship and the firm. Unfortunately, that relationship is still frayed. I believe in order for the firm to get back on track, Jessica and Harvey need back on the same page first.
Season 3 Predictions: Rachel will continue to pursue attending law school because she wants to become a lawyer so badly. Now that she has to give up on Harvard, it only makes sense she starts looking somewhere local.
The relationship between Mike and Rachel will include some road bumps despite, and maybe because of, the angry sex they engaged in during the finale. Jessica burned many bridges in pursuit of that merger, which she will also have to rectify. Similar complications and reconciliation await Harvey and Mike as well
Overall Grade: A
Your turn, TV Fanatics: What grade would YOU five Suits Season 2?
C. Charles is a TV Fanatic Staff Writer. Follow her on Twitter.