It was the adult story lines, far more than those of the teens, that attracted the attention in "Introducing the Miracle."
John, Angelo and Regina were facing some really challenging times in their lives, and although the big effort to save Carlton concluded this week, it fizzled a bit in comparison.
The episode did do a good job at setting up the next chapter of Switched at Birth, and I guess that's as good as you can get from a finale.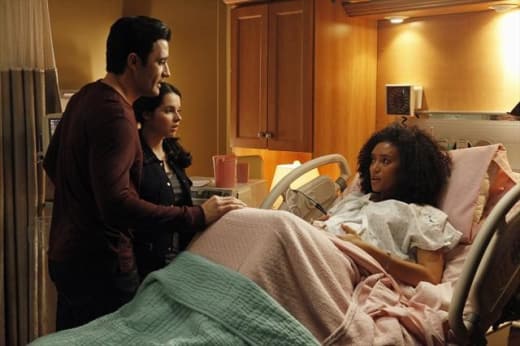 The end of the uprising. It wasn't really surprising that the demands of the Carlton students weren't met. They didn't have clue what they were fighting against. Their effort, while valiant, was disorganized because it didn't deal with the issues that the School Board faced when deciding to close Carlton in the first place. I don't think they thought about anything other than their deafness.
The core group of rebel students listened to Kathryn talk about finances during the school play every day they met. Each student had watched their favorite extra curricular activity cut, and yet not once did they put two and two together to get four. There was not enough funding to keep the school running without the inclusion of hearing students. Their number one demand? That Carlton remain open to a 100% deaf student body. Sigh.
Carton will stay open, and the pilot program will be over. Instead, there will be a 50/50 mix of deaf and hearing kids, and the hearing kids won't even have to take ASL classes. If the protest had taken another direction, concentrating on the inclusion of hearing students and the importance of integrating the two communities for the betterment of all the students, I think that would have ended differently. As it stands, you have to wonder how Carlton will work without the two communities being able to communicate or even trying.
Bay and Daphne argue and find a connection - again. These two girls have been butting heads since they met. I can't imagine fighting for the love of your birth mother and the mother that raised you with your switched 'sister,' so what they're going through is probably pretty tame in comparison to the real thing. First Bay ended up with Emmett, and now Noah broke up with Bay because of his attraction to Daphne. Their nature versus nurture similarities are going to make them attractive to the same men a lot of the time, so they better just learn to deal with it.
That they found a connection through Regina was great. They finally stopped arguing about who knew her best and realized she had been lying to them both because that's what drinking does to Regina. It was nice to see them working together for the mother they both love.
Regina found her rock bottom. It was pretty difficult to watch Regina throw herself at Zane and then Angelo, and have both of them turn her away. Graciously, and in her best interest, but still tough to witness. Zane really liked Regina, but he didn't want to be the reason she fell off the wagon, and gracefully removed himself from the situation. Angelo, who was once so despised, took care of her and arranged not only for her mother to be there with her, but for her to go to rehab to get herself back together.
Then the bottom fell out for Angelo. I can't figure out what happened with Lana to make her leave with her baby like she did. Bay was honest with her about Angelo, and nothing she said would have scared me off, unless she was hoping for a marriage out of the deal. Could she really have been in it for money, after all? Angelo has become a very good person with a strong moral code. He would make a great father to a new baby girl, and if Lana leaves and doesn't come back, it will be devastating for him. It could also bring him closer to the daughters he already has.
The Kennish men win by default. John's opponent dropped out of the senatorial race at the last minute, he won and was scared to death. He admitted to Kathryn her was kind of hoping he wouldn't win and should have backed her from the beginning. It was a really great moment between John and Kathryn. I've been waiting for him to apologize in some way about stealing the rug out from under her, and that did the trick. She's finally okay with the decision and excited for what he'll be able to do with his win. With John's growth this season, I think he'll be a great senator.
Toby, meanwhile, was sliding off the rails. From hot-tubbing with a stranger to being engaged to Nikki in a matter of weeks, he's throwing his future down the drain because he doesn't want to make a grown up decision. The odds of he and Nikki making it to the alter are slim, especially since he probably got accepted at his university of choice, but he's acting more like the gambler from Switched at Birth Season 1 than the Toby he's been lately.
A lot of set up for the summer season. As the saying goes, you can't always get what you want, but you find sometimes, you get what you need.  What did you think of the finale? Sound off in the comments!
Carissa Pavlica is the managing editor and a staff writer for TV Fanatic. She's a member of the Broadcast Television Journalists Association (BTJA), enjoys mentoring writers, wine, and passionately discussing the nuances of television. Follow her on Twitter and email her here at TV Fanatic.