As we wished Carrie a very special birthday, I found myself reminiscing of my own 17th birthday.
Much like Carrie, 17 was a time of often wondering if "The Long and Winding Road Not Taken" was meant to be a part of my journey or not. Birthdays seemed to mean much more back then and never went as planned... just like how Carrie's big day ended.
Our girl found herself missing out on her own birthday festivities when her internship interfered with her plans. By the way, I am so glad that Carrie is back in action at Interview.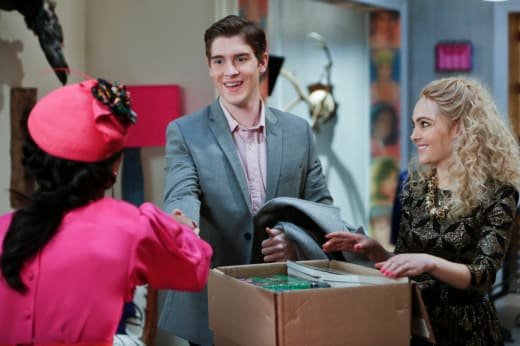 Also, major props to her for not even batting an eyelash about her birthday when Larissa demanded her at the so-called literary event of the year. That was quite impressive and so grown up of her.
Leaving Carrie dateless after having plans with his mother, Sebastian was as vulnerable and charming as ever. Eventually, he showed up late to the party when I had a feeling that his mom hadn't shown up as promised. Soon after, he was drowning his sorrows away causing Carrie to miss an opportunity with a major publisher, Tripp.
Lucky (or unlucky) for Sebastian, his mom ended up showing up just when Carrie almost spent the night. Is this the last we've seen of Sebastian's family problems? Will we see him turning more toward alcohol? If so, will Carrie be able to help him through it all?
Side note: I loved learning more about Sebastian and also when Carrie was telling Tripp that she was writing a book on sex. It's the subtle nods such as this one about Carrie's future career as a writer that make this series so much fun to watch.
Outside of the Kyddshaw world, Walt forgave Maggie for cheating and admitted to not being a good boyfriend. He also apologized to Bennett for previously running away and calling him a fag. All was forgiven and the two seemed to bond effortlessly. Meanwhile, Maggie also realized that she and Walt were truly over when he said that he would always love her as a friend.
Elsewhere, Mouse found herself competing with West again trying to impress a Harvard alum. I really liked how she called the other girl out for just trying to hang with the popular kids. Now, it looks like she's found another extracurricular activity to add to her resume as the new basketball team manager.
Back at home, Mr. Bradshaw and Dorrit were busy trying to find the perfect gifts for Carrie. While her dad got Carrie her very first credit card, Dorrit struggled a bit to find her gift when caught shoplifting at the record store and getting her very first kiss.  
In the end, Dorrit made a mixed tape of their mom's favorite songs and Carrie realized that she had all she ever wanted and needed just the morning after her birthday. 
Now, it's your turn. What did you think of the latest The Carrie Diaries?