The Following Review: Rise of the Followers

Sean McKenna at .
The Following has two great leads in Kevin Bacon and James Purefoy, while really nailing down a scary and suspenseful world each and every week. Moreover, there's the unsettling fact that that anyone can be a follower and the characters won't know until it's too late.
Which leads to the ultimate question: Who can Ryan Hardy really trust?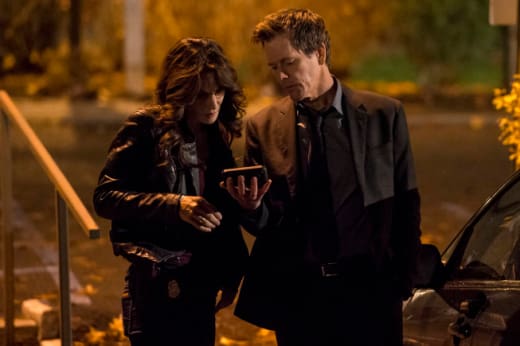 With the fact that the followers seem to be everywhere, I'm still waiting for the reveal that one of them is rooted deep within the FBI organization or, at the very least, close to the task force assigned to hunting Joe and his people.
At first, I was tempted to conclude that Debra was a follower, but her flashbacks about escaping a cult as a child in "The Fall" has led me to assume otherwise. Although, the show does love to throw in twists, so I'm not completely convinced of her alliances.
I was happy to learn that Mike wasn't a follower at all, but rather a loyal FBI agent to the cause. I really like his character, including his slow bond/friendship with Ryan, so it was great to finally see him confronted by Joe's crew and not joining them.
At the same time, I wasn't content that he was teamed up on in a weirdly violent question and answer party. Why even give Mike the chance to fight?
As much as he was able to hold his own, I was shocked that he was stabbed by Charlie. It was a jaw-dropping moment for sure, especially because I was worried that he might not make it out alive. The show did kill off FBI Agent Troy Reilly in only the third episode.
Thank goodness Ryan brought a gun to the knife fight to swoop in just in time.
Of course, the whole situation of Mike getting captured makes me highly suspicious of new FBI lead Nate Donovan. He seemed so quick to cause any delay in the investigation, put Ryan on the back burner, even send Mike home into the arms of the followers, that all signs really point to him being a potential follower, right?
That or he's got power control issues in really wanting to micromanage everything to the point that it causes unnecessary difficulties.
Which makes me wonder about Roderick and his own quest for power in the followers group.
I was surprised that Roderick wasn't anyone we'd ever seen before, (I had heard theories about it maybe being FBI member Marshall Turner), but instead it was a sheriff who has a pretty close bond with Joe. A guy who Joe showed the "art" and way to kill someone.
Roderick certainly appeared to be something of a leader, even if he was following Joe's command, but I wonder if he'll like the direction Joe takes now that he is free to lead the group.
Would Roderick have killed Charlie even though he "failed?" He definitely didn't protest, but he didn't seem super happy after the fact. I really think Roderick has the chance to be an interesting and well developed character and look forward to seeing how he plays out.
It was a wild shock that Joe chose to kill Charlie, who seemed brainwashed into the idea of wanting to mean something and therefore followed Joe's cause. How many of the followers feel like Charlie?
Certainly, the after effects of killing one of their own was some sort of aphrodisiac because Joe and Emma got it on (why?), while Roderick and Louise found their own sexual passions. It was an interesting way to end the hour.
When you really think about "Welcome Home seemed like more of an attempt to add to the creepiness of the followers being everywhere and their love for some rather heavy violence, something that's already been pretty well established.
We didn't really learn anything new about Ryan, who had another great hunch and attack on the bad guys, but he did show some more care and concern for Mike.
And Joe and the rest of his obedient crew are furthering themselves from any real sympathy, digging themselves deeper into a hole that finds them more evil that morally confused or ambiguous.
I'd really like to see some progression on Joe's plan besides just messing with Ryan or trying to get Claire back. Why has he built this massive following and what does he intend to do? There's got to be something more complex going on.
At the same time, I'd love to see Ryan be a step ahead for once rather than finding a follower or two and killing them. It would take a long time to beat Joe if that happened every single episode.
As much as I'm enjoying this show and love the suspenseful tone, I'm ready for The Following to step it up, move beyond Ryan Hardy fighting nameless followers and really get deeper into the story's layers underneath the simple Joe versus Ryan battle. Clearly, things are just heating up.
Sean McKenna was a TV Fanatic Staff Writer. He retired in May of 2017. Follow him on Twitter.