"The Farm" worked as a back door pilot for a new comedy starring Rainn Wilson of the same name.  A while back we learned that this sitcom exploring the lives of the Schrute family was in fact not picked up for series by NBC.
I'm torn on how to feel about that fact.  On one side of the equation, it will be nice to have everything and everyone related to The Office end when the show does this spring.  However, Wilson is so good as Dwight that The Farm was certain to be as funny or better than a majority of what's currently on television.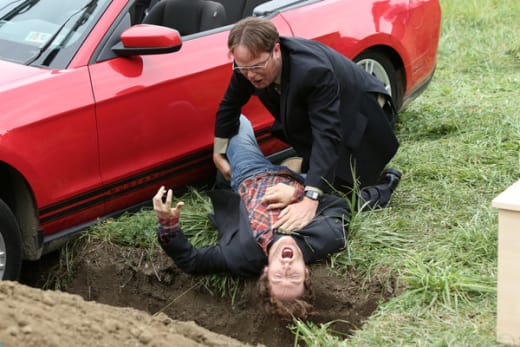 Throughout the last nine seasons, viewers of The Office have been handed snippets of what Dwight's farm life looks like, and it has usually been hilarious.  Seeing him in that element 24/7 might expand that hilarity, but it could have also gotten old quickly.  Maybe what made it great was that it was a rare occurrence.
If The Farm had just one moment per week that was as funny as the Schrutes' way of making sure that the people they are burying are truly dead, then it would have been worth making season after season.  Seriously, how could you not die laughing watching Dwight fire a shotgun straight into a coffin?!?!
I saw some potential in brother Jeb and cousin Zeke for laughs, and Fannie would easily step into the Jim/Pam role of straight person in this group of weirdos.  Already working in Dwight's courtship with a lady, and his fatherly ways with Fannie's son, they certainly had the right start to this could-have-been series.
Back at Dunder-Mifflin, Packer returned to seek revenge on his former co-workers for being fired a while back.  Other than a few bits by Kevin related to his need to eat cupcakes, and maybe one insult by Packer, this story was a dud.
What did you all think of "The Farm?"  What were your favorite moments?  Did you enjoy meeting the Schrutes?  Are you upset the new show didn't get picked up?  And, unlike me, did you enjoy the Packer scenes?
Check out some of our favorite quotes from the episode below, and then hit up our The Office quotes page for all the other best one-liners from The Office Season 9.
Packer: Sorry for calling you a fat little runt earlier.
Clark: You didn't actually say that.
Packer: No? Wow. I'm in this mode now where I'm apologizing for thoughts that are in my head. | permalink
Dwight: He used to talk about planting a peanut/grape hybrid...one plant, one sandwich. | permalink
Dwight: People underestimate the power of nostalgia. If baseball can use it to get people to care about that worthless sport, then I can use it to get my siblings to care about the farm. | permalink
Dwight: Nostalgia is truly one of the great human weaknesses...second only to the neck. | permalink
Dan Forcella is a TV Fanatic Staff Writer. Follow him on Twitter.